Why Use a Convection Microwave?
by Guest Post on Mar 29, 2011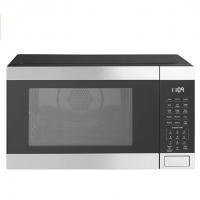 A convection microwave is one of the most convenient appliances to use in today's modern world. Microwaves are used for quickly heating foods because they cook significantly faster than a regular oven. A convection microwave may be taking the place of the conventional oven in today's fast-paced lifestyle.
For a family with teenagers, you know that your kids are always on the run, and so are you. Some people like to use frozen microwaveable meals, based on the old TV dinners, which heat up in about five minutes in a convection microwave. This allows everyone to have something to eat before rushing off to the next activity. A convection microwave is also helpful if you haven't had time to plan a meal and your time at home is short. If you like to cook large enough meals that you frequently have leftovers, you can allow your children to use the convection microwave to reheat them when they get home from school. This gives the kids a healthy snack and tides them over until dinner time.
Another reason why it is so easy to use a convection microwave is the fact that if your time is short, you can still prepare a fully home-cooked meal in that short amount of time. A convection microwave uses the circulation of hot air to quickly cook all kinds of foods, not just to reheat leftovers or cook TV dinners. You can use a convection microwave to roast a chicken or bake a pizza to crisp-crust perfection in about 2/3 the time it would take in a regular oven. A convection microwave opens up your options when you plan your meals around your busy lives. You no longer have to sacrifice flavor and nutrition for speed.
Using a convection microwave will also reduce the amount of energy you use. You have heard the old adage that 'a watched pot never boils.' This refers to how long it can take to heat a pot of water on the stove. Using the convection microwave, you will cut that time in half or even more. The microwaves in conjunction with the circulating air use less time as well as energy to cook food. This makes the convection microwave a very energy-efficient appliance to operate. You may even see enough of savings on your energy bill that your convection microwave eventually pays for itself.
The convection microwave uses that lower amount of both energy and time to cook all the foods you could cook in a regular oven. You can bake cakes and cookies, roast poultry, brown meat, and even cook crisp bacon in a convection microwave. You use less oil than in conventional cooking, which adds to the nutritional value of your foods. Rather than quickly heating or reheating foods, you can use your convection microwave to cook nutritious meals for your family daily. You will be able to spend less time in the kitchen if you use a convection microwave, so you can enjoy all of the activities you and your family like to participate in.