Homemade Headboards-Make an Upholstered or Wooden Headboard
by Guest Post on Jan 12, 2010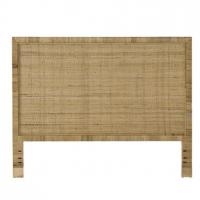 Homemade headboards can add a lot of personality to any bedroom. They can be coordinated with existing furniture and room decor or they can be the basis of a bedroom makeover. Invest a bit of creativity and time to make a headboard, turning it from ordinary to spectacular.
Save money with a do-it-yourself headboard – all that is needed is some basic skills and tools. Cheap plywood is good enough for an upholstered headboard since it will never be seen.
Design a headboard
Trace the desired shape on the wood and cut with a jigsaw. Wrap with upholstery grade foam that is cut to fit. A layer of batting is next. Then stretch the material you have chosen over the now padded headboard and secure it on the back with a staple gun.
Homemade fabric headboard designs
Slipcovered headboards are a straightforward diy project for those who enjoy sewing. Measure both the headboard and footboard and add 1-2 inches for a seam allowance on all four sides.
Cut material and fold in half then stitch up the sides. Attach ties or Velcro at the bottom to fasten the cover. If necessary you can wrap the headboard with foam batting before covering it for an extra comfortable backrest.
Ribbons, lace, velvet, satin, and tapestries can all be used to create a unique look. Use your imagination – from romantic French country and Tuscan to contemporary European or southwestern decorating ideas.
For the children try fabric in bright red, yellow or blue - primary colors that stand out. For toddlers DinoMax, ladybugs, a ballerina or fairy princesses will be popular. Sports enthusiasts will love baseball, basketball, and soccer. Build up a theme starting with a homemade headboard slipcover.
Easy headboard plans
For those with less skill or time a headboard kit provides a complete, ready-to-cover headboard design with pre-molded foam, hardware, and illustrated instructions. Kits come for twin, full, queen, and king beds as well as for custom sizes.
Homemade wooden headboard ideas
Preassembled picket fencing can be trimmed and painted for a fun picket fence headboard. For stability, make sure the frame is anchored to the wall instead of the bed.
To create interest above the bed, look for old door toppers or fireplace mantels to mount on the wall. Use anchor bolts and screws to hang it so you won't bump your head.
Free info on how to make a headboard.