When to Use a Brush, Roller or Sponge Brush
by Guest on May 25, 2010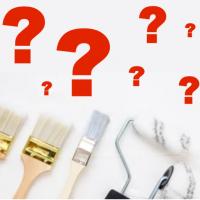 There are several different types of applicators available that you can use when working on a painting project around the house, including rollers, brushes or sponge brushes. Each of these applicators is good for specified uses.
Types of Paint Brushes
Brushes are a good choice for painting trim and woodwork. They are also useful for cutting in the edges around the top and bottom edges and corners of walls, before using a roller to cover the larger areas. Brushes can be used in areas that are too confined to use a roller. When selecting a brush for painting, it's important to choose the correct type. There are both natural bristle and synthetic bristle brushes; if you are using latex paint, you will want to make sure to choose a synthetic bristle brush. Synthetic brushes can generally be used with any type of paint. Good quality brushes will have the bristles trimmed on the ends so that the brush has a chisel edge instead of a flat blunt end. The tips of the bristles should be split or fuzzy; this enables the brush to 'grab' the paint so that you can apply a smooth even coat. When trimming in around edges or woodwork, always choose a sash brush, which is the style of brush that has an angled edge instead of a straight edge, to make it easier to paint a clean straight line.
Types of Rollers
Rollers are the preferred choice whenever large expanses of area need to be painted, such as the walls or ceiling of a room. Roller covers are available with either a natural fiber or synthetic nap. If you are using oil-based paints, a natural fiber roller cover is preferred, although as a general rule synthetic roller covers can be used with either water or oil based paints. It's also important to select the correct nap length, with short napped rollers being the best choice for smooth surfaces and long napped rollers working best for rough surfaces.  Rollers come in various widths, with wider rollers being the best selection for larger areas; small four inch rollers work well for tight areas.
Sponge Brushes
Sponge brushes are extremely handy for quick jobs and touchups. Sponge material is also sometimes used to create mini rollers, which are good for rolling paint in very narrow areas. Many times people prefer to use a sponge brush for crafts, to either apply paint, stain or glue.  They are also useful for painting around the house, especially for small areas or when it's more convenient to use an inexpensive applicator that can simply be thrown away after painting. Sponge brushes sometimes leave more noticeable lines in the finished paint job than what a good bristle brush would leave, so it's generally a good idea to test first before using a sponge brush for anything more than a small job. However, they do have the advantage of not having bristles that can fall out and ruin a paint job. Sponge brushes are inexpensive, easy to use, and work well with most types of paint products, with the exception of lacquer, which could dissolve the foam.