What Type of Pool Fence Should You Install?
by Guest Post on Nov 7, 2014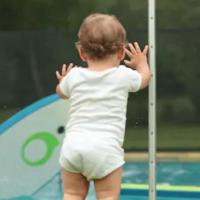 Drowning is the second highest cause of children's deaths in the United States right behind car accidents. The question should never be "if" you should install a pool fence. It should only be about what type of pool fence you should install. 
The good news is that there are plenty of options with materials and design when it comes to pool fence installation. In this article, we will cover what these options are and the pros and cons of each. 
One of our favorite options for pool fencing is a removable mesh pool fence. There are several manufacturers of this product but we like Guardian. If you have no idea what a mesh pool fence is I will try and explain it briefly. It is a pool fencing system that is easy to set up and remove. The great thing about it is that it is virtually climb-proof. It can be put and taken down in just a few minutes. This is by far one of the most affordable types of fencing to have installed. 
Aluminum is another great choice. The reason why we like aluminum so much is that more manufacturers offer limited lifetime warranties. The warranties cover the powder coat flaking and cracking as well as any manufacturer defects. Replacing fence panels is also easy to do. And of course, there is the fact that aluminum does not rust. And since this will be near a pool which also has some corrosive chemicals in it this makes it a great choice. 
Vinyl is also another wonderful option. Vinyl comes in a variety of styles and colors. Most vinyl also comes with limited manufacturer warranties. However, most of these warranties are for 15 to 20 years. Since this will be going around a pool I would recommend going with staggered pickets so that you can see what is going on behind the fence. 
Chain link fencing is another affordable fence for your pool. However, I would highly recommend going with a vinyl-coated chain link. There are a couple of reasons for this. The first would be that it just looks nice. Secondly, most chain link is galvanized. Galvanized chain link fencing is quite ragged. It may not look like it but it can be a major safety concern. It is easy to get cut. So a little roughhousing can turn into a bloody mess quickly. Not to mention towels, clothes, etc, being draped over the fence will get snagged and torn.
Wrought iron or steel fence is fantastic. It is much stronger than aluminum and can withstand a lot more abuse. The downfall is that it is significantly more expensive than aluminum. Add to that the fact that it is made of steel and it has two strikes against it. But it sure is pretty. 
Finally, there is wood. I don't recommend wood fencing as a pool fence because it is wood. Water plus wood equals rot. A wood fence is not going to last near as long as any of your other pool fence options. 
If you have questions about pool fencing I always recommend calling a professional fence company. They can educate you and guide you in making the right decision for your new pool fence.