Adding an Outdoor Deck to Your Home
by Jessica Socheski on Mar 10, 2014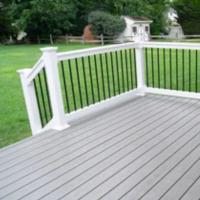 Adding an outdoor deck to your backyard will add a lot of character and style to your house. It is a great first impression and could increase the value of your property. When it comes to design and layout, there are new and innovative ways to add a deck to your house to enhance your yard. Gone are the days when an outdoor deck is simply a platform with a table and umbrella.
Nowadays, adding an outdoor deck takes planning, especially when you have an intricate yard or previous landscaping to work around. From design to seating, to planning out entertaining spaces, there is a lot that can go on an outdoor deck. It's best to work with a landscaper or landscape architect to get the most out of your space. Working with someone will also be helpful in creating an environment, rather than simply a deck. Landscaping, plants, and yard; all have to be planned and designed before you can begin building an outdoor deck.
Design
When planning out the design of your outdoor deck, you want to take into consideration things like the accessibility of the deck and the rest of the yard and how to build a deck that can withstand weather and other outdoor elements. First, decide whether the deck will be raised or level with the ground. A raised deck is an elegant way to save room in the yard, and an outdoor spiral staircase can make it easily accessible without taking up too much space below the deck.
Seating
Seating is important when planning the deck, and could save you a lot of clutter if you can plan the seating into the design. There are many innovative ways to add seating to the outdoor deck that add style and comfort. Many contemporary decks have modern designs and ergonomic seating that will make your guests feel comfortable and welcome. When planning with an architect or contractor, make sure that the deck can support the seating and that it makes sense with the design.
Entertaining Spaces
Most outdoor decks become central locations for entertaining guests. Planning that into the design is important and enhances the look and feel of the yard. Depending on what you like to do, there are different ways to plan out the outdoor deck. For instance, if you like to cook or enjoy cocktail hour outside, you'll want to plan an open design with a bar or built-in grill to accommodate your cooking ventures. If you entertain families, your outdoor deck will center around a pool or large yard that is kid-friendly.
An outdoor deck is a great way to add value to your property and allows you to entertain in fun and new ways. Planning the outdoor deck is important before you begin and will make the process quicker and less of a hassle. Have an idea of what design you want and how it will enhance your yard. From there, you can find innovative ways to create a unique space for your family and guests. Whether you want a family-friendly space or a simple area to relax, having an outdoor deck will add character to your house.