Why French Door Refrigerators May Be Able to Fit Your Needs
by Guest on Mar 29, 2011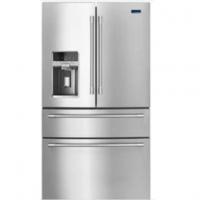 There is nothing quite like French door refrigerators. That may be a pretty bold statement but a comparison with other available models will show that French door refrigerators have many features that families enjoy. So where should you start when considering this type of refrigerator? Perhaps the best place to start is to identify the options of the refrigerator you are thinking about replacing. What do you like least about your current refrigerator? If it is a freezer over the refrigerator model, perhaps you dislike it as you have to get down on your knees to be able to see what is on the lowest shelves. It may also be that you don't buy a lot of frozen foods, which means that you don't need all that freezer space.
French door refrigerators can solve many of these issues. If you have a side-by-side refrigerator, one side may completely be filled from top to bottom because the space for perishable items is limited. Limited space can make it much harder to know where to store things when it comes to perishable items that can spoil. Some people find that their fridge does not have an adequate amount of space to fit the food storage needs of their families. The design of French door refrigerators can help solve many of these issues that many families have. Manufacturers have spent a lot of time researching the needs and desires of most families when it comes to refrigerators, and one of the most popular designs on the market today is the French door refrigerators.
French door refrigerators have two doors that open up to a single compartment on the upper part of the refrigerator. Rather than kneeling down to get access to the food on the bottom shelf, French door refrigerators bring the bottom shelf up higher so that a slight bend at the waist makes it easier to access shelf items. More door compartments increase the capacity for storage, and most food items can be easily stored using only one door. If you purchase a model that has a water and ice dispenser, the design of French door refrigerators has virtually eliminated the frost buildup that occurs on older models. Opening one side of French door refrigerators saves on the cooling time needed to restore the desired temperature. Some refrigerator models have drawers available and are conveniently located for easy access so that your food will be more visible and accessible.
French door refrigerators have a freezer located at the bottom of the unit. Most freezer compartments are smaller than the main cooling compartment, so more of the space inside the unit is used for keeping things cool. Keeping the frozen section in the lower part of French door refrigerators is helpful because it allows you to access the refrigerated food separately from the frozen foods. Some freezers are in a drawer format while others are built as compartments. No matter what format the freezer follows, the space is moderate and well placed for easy access. As you can see, the design and utility of French door refrigerators make a great choice when it comes to selecting a refrigerator that meets the needs of your family.