5 Awesome Gifts Every Homeowner is Going to Love
by Guest on Apr 12, 2019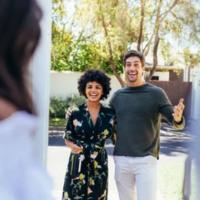 You've been invited to a housewarming party and haven't got the slightest idea what to get. Here are five awesome gift suggestions to inspire you. You cannot go wrong with any one of these gifts.
Get a Doormat
Let your gift be what will welcome both you and every other visitor to the new home. More often than not, doormats are purchased as an afterthought, yet they give the first impression of someone's home. Put some thought into it and pick a doormat that can have prints or patterns, a warm, welcoming message on it, or a witty image that will put a smile on guests' faces right from the doorstep.
You can even have it custom made. Whether you choose to go for something simple or something classic with this thoughtful gift, you will have chosen a gift that is memorable yet practical.
Get a Beanbag
Beanbags have regained popularity - who would not enjoy having this fun piece of furniture in their home? They come in all shapes and sizes to suit all age groups and furry companions. You can choose to gift an adult-size bean bag, which can comfortably take more than one person. Yes, they are that big.
Alternatively (and if your pocket will allow it), you can go all out and get a whole set of different sized bean bags, including one for a pet.
Get some Temporary Wallpaper
Here's another practical gift. If you know the tastes of the person you intend to purchase it for, you can get them some temporary wallpaper that will jazz up a wall. If the wallpaper design is eye-catching, it can be cut into squares and framed, and then used as wall art.
The advantage of using temporary wallpaper is that it is easy to peel off and it leaves no damage or mess on the original wall once removed. Thus it is easy to change whenever required or desired. 
Get some Plant Life
Nothing brings a room to life like life itself. You can go for some green potted plants or some vases filled with flowers to add color and life to a home. Artificial plants and flowers last longer and have minimal hustle when it comes to maintaining them, but it would be best to go for real plants and flowers. The advantages they come with make them worth the hustle. 
Get a Cursive Candlestick
A unique, golden, cursive candlestick could very well make your gift the centerpiece of a mantle or dining table. Why not go ahead and get some scented candles along with it, and do not forget to grab some matches or a lighter to complete the gift set. If you are out to warm the house, this gift will literally do it.
Conclusion
After reading this, you should have some ideas that will help you pick the perfect housewarming gift. Go on then, follow that illumination of inspiration and grab the ultimate gift. Happy shopping!