What Kind of Cook-top is Available on an Electric Range?
by Guest on Mar 29, 2011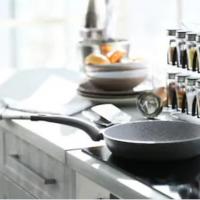 In the market for an electric range? There are a variety of cook-top surfaces worth serious consideration as people search for the right electric range for their home and cooking style. So many features are available now and as people research the different makes and models, they will discover the information necessary to make a good decision.

There are several styles of burners on the market today. The standard coil heating element is still a good solid bet on an electric range. There are usually two larger and two smaller elements that offer the option of cooking in several different sized pots at once. These burners on an electric range usually have a removable pan set just beneath to catch drips and crumbs. Many people like to line these drip pans with foil to make cleanup quick and convenient. The top surface of the electric range is usually hinged and can be lifted to allow for cleaning beneath the drip pans. It is easy to find decorative covers for the burners of an electric range, to aid in keeping a neat and clean appearance when not in use. A smooth, one-piece tempered glass or ceramic surface is also available on an electric range. The main advantage of an electric range with this feature is its superior ease of cleaning. Even when sticky pasta, rice, or potatoes boil over, simply wiping the mess away with a damp cloth leaves the electric range cook-top as good as new, and the raised edges help prevent spills from running onto the floor. These tops also provide a smooth, flat surface where hot pans can rest straight out of the oven to cool. It is also possible to find a glass top electric range that has a light panel to alert the user to a still-too-hot-to-touch burner.

An induction cook-top is also an option worth considering. On an electric range with this feature, water boils in as little as nine seconds. This is due to intense, high heat settings. It is best to use stainless steel pots on this type of electric range as the high heat can be too strong for the finish of nonstick cookware. These cook-tops also boast the smooth flat ceramic surface that allows for quick cleanup. Care should be taken to wipe up sugary spills quickly to prevent pitting of the surface.

The controls on an electric range also vary in style and function. It is most common to find an electric range with standard knobs that turn to select the individual temperature of each burner. On the coil-type burner, the heat is steady at the selected temperature until the unit is turned off. The glass top electric range has a regulator that turns the burner on and off as needed to maintain constant cooking temperature.

From the casual home cook to the serious gourmet, there is an electric range with a cook-top perfectly suited to that purpose. Stopping by an appliance center for a look is worth the time and will help decide which electric range to buy, an easy one.