5 Critical Safety Tips for DIY Home Roof Repair Projects
by Boris Dzhingarov on Jul 20, 2018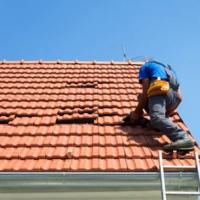 Could it be that we are already midway through summer and already preparing for those autumn home repairs before the harsh cold months of winter set in? Usually, much of the work we need to do is on the exterior of our homes. So, it is that time again when we need to see what the spring rains and summer storms have done to our roofs.
For those who prefer handyman DIY projects instead of paying high prices and waiting long periods of time for professional roofers, here are 5 critical safety tips for DIY home roof repair projects. Remember, you may be trying to save money, but safety is always first.
1. Know When the Job Is Beyond Your Ability
The first tip would be to know when the job is beyond something you can safely handle. If your roof is extremely steep and you don't have the proper equipment like a Guardian fall protection harness with all the necessary hardware, it might be better to leave the job to a pro. Is what you can save replacing a few tiles worth your life?
2. Extension Ladder Safety
Never carry anything up the step ladder with you because you need both hands free to avoid falling. It is advisable to have someone help you, at least at this point so that you can use a bucket with your tools in it which is tied to a rope. Simply pull the bucket up and return it down again if your helper needs to add more items. Your helper should always be your 'spotter' as you climb and descend the ladder and as far as ladders go, you need one that will extend at least three feet above the edge of the roof. In fact,  OSHA has published extension ladder safety guidance because this is a very serious issue.
3. Keep Your Shoes and the Roof Clear of Mud, Dirt and Debris
Unless you've never slipped on a wet leaf or a bit of sand or mud, you can imagine how dangerous that would be up on a roof, especially a sloped one! Always make sure the soles of your shoes, the non-skid type, are clear of mud and sand and the roof should be well swept also.
4. Choose a Clear, Calm Day
Here again, if you've ever lost your balance in a gust of wind that seemingly came out of nowhere, you will understand your danger on a roof where you are above the obstruction of other buildings and low trees and shrubs. If there are dark clouds in the sky, don't go up on the roof! A sudden summer storm could develop, especially in the humid days of summer and one bolt of lightning can be your downfall – literally.
5. Let Those on the Ground Know You Are Above Them
Oddly, most lay persons aren't aware of the dangers they also pose to those on the ground below them. It is suggested that you rope or mark off the area of the roof you will be working on so that if something should happen to slip out of your hands and fall to the ground, no one will be injured as a result.
It can't be said enough that you should always be aware of your abilities and limitations. As the old saying goes, never bite off more than you can chew. When it comes to working on a roof, that is the best tip you could be given. One fall is all it takes to ground you for a very, very long time.