How to Buy Electric Cooktops
by Guest Post on Mar 29, 2011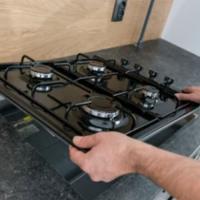 Buying new electric cooktops can seem like a daunting task. There are so many cooktops out there and you want to make sure you find the right one that meets your needs. It is not as difficult as it seems though, and most of the decisions come down to personal preference and taste.
Electric cooktops are the most common. These cooktops come in two different options: coil cooktops or smooth top cooktops. Electric cooktops are the cheapest of all the cooktops and are usually the easiest to install. Electric coil cooktops are easy to maintain and cheap to fix if broken, while electric smooth top cooktops are stylish, cheap and easy to use and clean. Once you have decided which one of these electric cooktops you want the rest is pretty easy.
Next you'll need to figure out what the cooktops size must be. Measure the space in the kitchen where you'd like one of these cooktops to go and write the measurements down. Make sure to double-check these measurements because making a mistake here could cost you big time. Figure out how tall you would like one of the cooktops to stand and measure the other counters and sinks in the room. Usually, electric cooktops come in 30 inches standard, but you can get bigger or smaller depending on your needs. Once you have determined the cooktops unit size, ask yourself how many burners you'll need. Most electric cooktops come with 4 burners, but sometimes you can order these electric cooktops with 5 burners which may require special ordering.
After you have decided the size range of the electric cooktops you want, you'll have to now find the right style. You can go with the cheap and easy coil cooktops or the smooth top cooktops. Both cooktops come in a variety of different colors and styles, but the electric smooth top cooktops usually blend in better with the kitchen and are even with your counters. Use the measurements you have collected to narrow down which one of these cooktops has the color and look you are going for.
Researching the pricing, availability, and reviews of these cooktops is definitely the most important step. There are usually sales going on for cooktops all the time and you don't want to miss out on these. Cooktops can be expensive, but the cooktops' quality is very important and you don't want to be sorry later. Find the place with the best deals and go there and check out the cooktops yourself and see if you really like it. Finding the best cooktops usually takes time and patience as well as reading reviews and searching for the best deals.
Once you have narrowed down the electric cooktops you want and have purchased one, now it's time to install it. Installing cooktops is difficult unless you are experienced in installing large and complex appliances. These cooktops can be very heavy and difficult to move and most retailers that sell cooktops offer installation and can put the unit on the same day, and include delivery. Using professionals is a good idea if you feel any hesitation as it is better to be safe than sorry!