The Advantages of LED Strip Lighting
by Dion Cobbin on Jun 27, 2022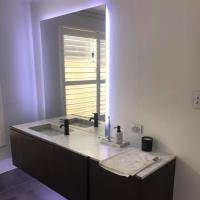 LED Strip lighting is an awesome way to add color and light to interior rooms, not to mention they are extremely energy efficient compared to traditional decorative lighting systems such as lamps. LED's have an estimated energy efficiency of between 80% to 90% when compared to traditional lighting systems.
When it comes time to set the mood, strip lighting is a must! Due to the strip width, you are able to keep it out of sight, hiding it under benches, around mirrors, and in TV cabinets. It is important to keep in mind that you will need a powerpoint close by as the LED strip lights will need to be plugged into 240v power. If there are no power points available it would be best to speak to a licensed electrician about fitting a new power point in a closing direction.  
LEDs have a life expectancy of more than 50,000 hours, a great alternative to replacing globes in lamps often. All in all LED strip lighting is an amazing way to bring life to a room with multiple colors, along with the amazing borders and outlines you can create around the room or furniture, creating feature pieces to draw eyes towards your statement piece.