Repairing Lamp Plugs
by Michigan State University on Apr 27, 2012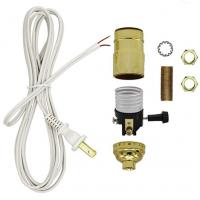 Don't overlook the obvious: no power or a bad bulb. Try a new bulb and plug the lamp into a different outlet before taking things apart!
Before you begin to be sure the lamp is disconnected from the wall plug.
Cut off the old plug plus 1 inch of cord.
Split the insulation 2 inches to separate wires.
Strip insulation from 1/2 inch of each tip, then scrape wire until bright (without nicking it).
Tie an underwriter's knot and pull the wire back into the plug.
Form a loop on each wire so it curls clockwise around its terminal. Tighten terminals to hold wires securely. Put insulation disc over prongs.

REMEMBER!! Be sure none of the little strands from one wire touch the other wire or you will have sparks when you plug it in.
A new plug (clamp type) is easy to use.
Cut the wire off clean.
Thread wire through the plug and into the prong assembly.
Press the prongs down and push them back into the plug.