Introduction to Landscape Lighting
by Dan Eskelson on Apr 30, 2012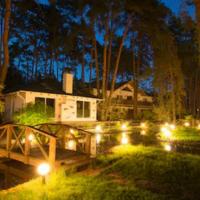 Low voltage landscape lighting systems are safe, economical, energy-efficient and provide numerous benefits for modern homeowners. Lighting can be used to provide safe access near paths, drives and entry areas. Outdoor lighting increases security by discouraging potential intruders. And the beauty of the garden and home can be dramatically enhanced by showcasing architectural and plant features with dramatic lighting techniques.
One common technique is uplighting, which focuses light and attention on an object from a low fixture location. The object can be a shrub, tree, or architectural features like a gazebo or arbor. Bullet or well type fixtures are specified according to the mature size of the plant or the size of the hardscape area to be illuminated.
Path lighting uses low fixtures that direct illumination down and outward. These fixtures are shielded on top to prevent glare. They are used along walks, stairs, and anywhere else that safe night access is required.
Another technique is downlighting or moonlighting. Usually accomplished with bullet type fixtures placed above eye level on a structure (or even in a tree), this technique illuminates general areas for safety, security, and aesthetics. Fixtures and lamps are chosen for the required brightness and width of illumination.
Backlighting, or silhouette lighting, provides a special effect by illuminating a fairly large surface (like a wall) using a wash light fixture. This causes objects in front of the lighting to appear as silhouettes.
The technique of shadowing also uses lights directed toward walls, but they are placed in front of the objects, so shadows play on the wall.
Numerous other techniques, and combinations of techniques, are available to increase your home security, safety, enjoyment, and value. The practical and aesthetic effects created by landscape lighting are limited only by the existing features of the architecture and landscaping and by the creativity of the designer.
Before deciding what and how to light, we must first ask "why light?" Our design decisions are dependent on proposed uses for landscape lighting...for safety, security, property value, or enhancement of the beauty of the garden and structures. Most likely, the answer will be a combination of two or more of these uses. A specific technique can be employed to satisfy more than one requirement...for example, uplighting a prominent tree near the house entrance will provide safety, security, and aesthetic enhancement.
Landscape lighting design is very similar to the design of the landscape itself: we must determine focal points, use areas, traffic patterns, outdoor "rooms," style, mood, etc. We need to consider how the proposed lighting will enhance the form, color, and texture of the soft and hard landscape elements. Lighting should serve to unify both interior and exterior design themes, conceal what may be unattractive, and shape the view of the landscape at night.
The design process should begin with a site map, drawn to scale, showing all landscape features and areas that need lighting. Fixtures and lamps are chosen for each area based on the desired effects ...path lights for safe passage along walks and stairs, wash fixtures for silhouette effects against a wall, etc.
One common mistake is to overlight; low levels of light create subtle beauty and are often also sufficient for safety and security. Use brighter lighting effects for focal points, and consider the effects that different light intensities will have on the overall design.
After deciding on the size and placement of lighting fixtures, the electrical system is designed. The heart of the system is the transformer, which converts the household 120 volts into safe, efficient 12 volts, and delivers this voltage to several circuits. Using appropriately sized cables and approved connectors, fixtures are connected to the transformer.
Group fixtures in zones determined by the distance to the transformer. The number of fixtures on each circuit will be limited by the wattage of individual lamps, distance to the transformer and associated voltage drop in the circuit.
Voltage drop calculations are critical; excess voltage results in hot lamps with greatly shortened life - insufficient voltage results in weak, ineffective lighting. The design challenge is to match cable size, total lamp wattage, and circuit length to produce voltage within the range of 10.5 to 12 volts. A new generation of transformers uses a multi-tap configuration to provide voltages over 12 volts for those zones at a sufficient distance from the transformer. (The excess voltage is reduced by the length of run to the first fixture). This allows greater design freedom and efficiency.
A common practice among lighting designers and installers is to allow for plenty of movement of the fixture locations. By leaving extra cable at each fixture, changes can be made to the system after installation, and after several years of plant growth.