The Do' and Don'ts of Fitting Hardwood Floors
by Guest Post on Sep 23, 2011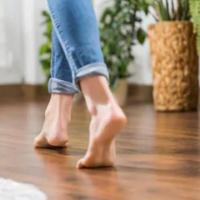 Hardwood flooring is an expensive material and if you are installing it for the first time then here are a few pointers worth reading. If in doubt then call on a professional to do the job for you – remember, mistakes can often be more expensive to put right than the installation would have cost you in the first place.
Do:
1. Make sure the area you are looking at covering is in an appropriate condition for the job. It needs to be level and dry and the temperature in the room should be consistent.
2. Ensure that all the other trades have completed their work if the hardwood flooring installation is part of a larger project. Plastering, plumbing, electrics, etc need to be finished before you lay the floor.
3. Leave your flooring materials to acclimatize within the room for 3 to 7 days before fitting to make problems at a later date less likely. Leave in the cartons but remove any plastic outer layers to allow the material to breathe.
4. Start from a measured center line in the room or from the longest straight wall available. Work logically across the floor and avoid joints meeting by varying the lengths of boards as you go.
Don't:
1. Attempt to lay engineered wood flooring unless you are confident that your joinery skills are up to the job. It could lead to a lot of wasted time and frustration as well as a disappointing result.
2. Forget to leave an expansion gap for the floor to naturally expand and contract into overtime. Failure to do so could result in warped boards and an uneven floor.
3. Discard the manufacturer's instructions. You may think you know best but a quick read won't do any harm before you get started.
4. Be tempted to move furniture back into the room until your varnish is fully set. Again, read the instructions and if anything allows a little longer than recommended to ensure the best possible result.