Finding the Perfect French Door Refrigerator
by Guest Post on Mar 29, 2011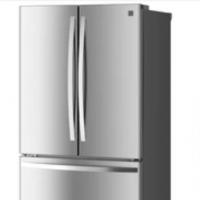 Since their introduction, sales of French door refrigerators have steadily increased, becoming one of the most popular types of appliances for new consumers to buy. This new popularity has directly led to an increase in demand, to which refrigerator producers have responded with an expansion of their product offerings. Therefore, anyone interested in French door refrigerators has to choose between hundreds of different options, making the search for the perfect model very difficult if not armed with the best information about what's available.
Everyone knows that shopping for appliances can be extremely difficult and time-consuming; however, if you are aware of the various design features and specifications offered, you can quickly narrow your search down to a few French door refrigerators that will work for you.
When shopping for French door refrigerators, the first factor to consider is capacity; often measured in cubic feet. This specification is important because the size of the refrigerator can make a big difference in the retail price of the appliance, with the larger French door refrigerators costing hundreds of dollars more.
To determine your own need for refrigerator space, consider how many people the refrigerator will be serving. For example, if you are single and don't host a lot of dinner parties, your capacity needs are probably going to be much different from a large family that is frequently providing holiday feasts to extended family. Either way, French door refrigerators typically range from 19 cubic feet to over 28 cubic feet, with a wide selection of fridges falling in between those two extremes.
Another important feature to consider when narrowing your selection of French door refrigerators is the presence of a water and ice dispenser. In many models, the presence of this dispenser can increase the cost of the appliance by hundreds of dollars, while the absence ultimately means more space and more money saved upfront.
If you are looking to save money, consider purchasing one of the many French door refrigerators that don't include that feature, thereby passing the savings on to you. One viable alternative to the expensive water and ice dispenser and built-in filtration system is to buy a small filter pitcher, which you can keep chilled in the fridge. Other people make up for the lack of filtered water in their French door refrigerators by buying a filter for their sink faucet, thereby enabling them to enjoy filtered water at the turn of a knob.

Along with capacity restraints and the availability of a water dispenser, many people consider the energy efficiency of the appliance they are looking to buy. French door refrigerators come in many shapes and sizes, but not all are energy efficient. By looking for a model that has efficient energy use, you can end up saving yourself lots of money in the long run, since French door refrigerators that are certified as efficient devices will have significantly lower operating costs on an annual basis.
Additionally, choosing to purchase an efficient model will help the environment by conserving energy, thus benefitting generations to come. In all, when choosing an appliance, remember that even though French door refrigerators come in many different sizes and with different features, you can find the model that is right for you.