The Advantages of Owning Front Load Washers
by Guest Post on Mar 29, 2011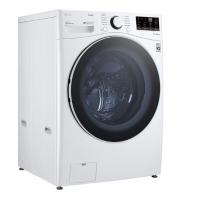 Front-load washers are washing machines that do a superb job of cleaning clothing and saving you money. Front-load washers have several components that allow them to be very advantageous and beneficial to those that need to keep their clothing clean. Let's go over the reasons why front load washers are superior to other clothing washer types.
The first thing to understand is that front load washers have been around for a while, but they were previously only available to commercial laundry services due to their efficient design. Today, front load washers have been improved greatly and are available to be purchased by the everyday consumer. This means that you can now enjoy the advantages and benefits of front-load washers in the comfort of your own home without having to step foot in the Laundromat.
The biggest advantage of owning front load washers is the money that you can save by using one. Front-load washers are designed on a horizontal axis, which gives the washing machine some extra benefits over its vertical washing machine competitor. One of the benefits is that front load washers tumble the clothing instead of using up the drum space with an agitator. This means that the drum size is larger in front load washers, which allows for larger load sizes than a vertical washer. Also, since the horizontal axis design uses gravity to tumble the clothing, less water is needed to effectively wash the clothing. These two benefits allow front load washers to be able to clean a larger amount of clothing using less water, which is a huge advantage of vertical washing machines.
These front-loading washing machines also require less detergent to clean clothing as gravity is used to swish and tumble the clothing around. By using less detergent, you can make the laundry detergent that you do buy last much longer than normal. This can equal savings as you won't have to buy as much laundry detergent to wash your clothing. These types of washers also use much less energy to operate as they use the force of gravity to their advantage. Instead of using electricity to move an agitator, energy is conserved because gravity is used to tumble the stains out of clothing. These energy savings can add up over time as you will see your utility bills start to drop.
As you can see, there are several advantages to owning front load washers as opposed to vertical washing machines. You will be able to wash larger loads of clothing using less water, less energy, and less detergent than you have in the past. These savings can add up to large amounts each month as your utility bills will start to reflect these advantages. Not only do these washing machines help you to save money, but they allow you to get more work done using less detergent and less energy. If you want a more efficient washing machine that can save you money and that is less wasteful, then a front-loading washing machine can be the perfect fit for you!