How Microwaves Work
by Guest Post on Feb 27, 2010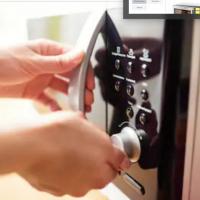 Created by a magnetron electron tube, microwaves heat food to a depth of one inch. As the heat is conducted inward the rest of the food is cooked. Microwaves bounce around inside the cavity of the oven and are eventually absorbed by the food, causing molecules in the food to vibrate producing heat through friction. Popcorn has moisture in the center of the kernel, an efficient microwave absorber. As the water molecules vibrate and heat the kernel erupts and turns inside out. Water is believed to be the best absorber of microwaves; therefore foods with higher moisture content will cook quicker than those with lower moisture content.
Over the years I have heard people speak of the dangers of microwave radiation. Popping corn was probably more dangerous than the modern microwave, especially when a small piece of wood containing superheated moisture popped into your lap burning a hole in your clothing. The radiation produced by your microwave oven is similar to that produced by a TV, radio, or cell phone, which is referred to as non-ionizing radiation.
It is important to keep your microwave cavity clean to prevent damage to the cavity. Microwaves bounce off the clean walls of your cavity, leaving your walls cool to the touch. Burned-on foods can cause localized heat build-up that could damage your microwave interior. However, microwave parts are easy to find in case you need to repair your microwave.