French Door Refrigerators -- Where Style Meets Function
by Guest on Jun 17, 2011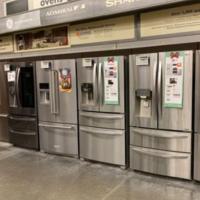 If you are in the market for a refrigerator that will add style to function, you may want to consider shopping for French door refrigerators. French door refrigerators offer an updated look in any kitchen and are available in different finishes, though stainless steel is by far the most popular, with its gleaming surface and stylish feel. Many modern kitchens featuring built-in appliances are well suited for French door refrigerators, which may also be installed as built-ins and framed out to match existing cabinetry. If you are in a home where the appliances are free-standing, French door refrigerators have an impressive look and add a touch of class as well as incomparable ease of use.
French door refrigerators are so-called because of the pair of twin doors on the upper refrigeration compartment. Unlike side-by-side refrigerators which feature two upright doors of different sizes opening into small, separated refrigerator and freezer compartments, French door refrigerators offer two equally sized doors which open into a single refrigerated compartment as well as a lower pull-out drawer for frozen foods. This allows you to open one or both sides to access your groceries without having one massive bulky door swinging out into your kitchen. French door refrigerators are ideal for situations where traffic space is tighter, and though the doors are narrower on the outside, on the inside they are deep enough to easily accommodate a gallon of milk or other large grocery items. Climate-controlled bins offer optimum fruit, vegetable, and meat storage as well.
Many models of French door refrigerators offer the convenience of a built-in ice maker and water dispenser on the door, giving the ability to access the most frequently used functions without constantly opening and closing the doors. In addition to cavernous space, the refrigerator compartments of most French door refrigerator types offer great versatility, with adjustable shelves and bins to configure as is convenient for each individual owner. French door refrigerators have the added bonus of a spacious freezer drawer on the bottom. These drawers glide easily in and out to allow quick and comfortable access to the food items inside. In contrast to freezers with swinging doors, which would cause one to stoop or even crouch to reach food in the back of the shelves, French door refrigerators feature smoothly gliding drawers that allow easy at-a-glance access to your frozen foods. The roomy freezer drawer on many models has removable bins for easy cleaning, as does the refrigerated compartment above.
Besides the versatility, high style, and ease of access; energy efficiency and quiet operation add to the pleasure of ownership. These types of refrigerators definitely have the features that many families are looking for when it comes to storage space and accessibility. Energy efficiency and ease of use are also valuable benefits that many families look for and enjoy from these types of refrigerators. If you are looking for a stylish and sophisticated appliance with unsurpassed convenience and functionality, you will want to consider French door refrigerators as the solution for your home.