Fabulous Features of an Electric Range
by Guest Post on Mar 29, 2011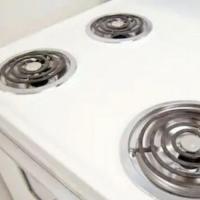 When looking for the perfect electric range to fit your needs, you may want to check out some of the fabulous features available and then choose one that's right for you. There are many electric ranges equipped with luxury controls and options. Here are just a few features that may help you in your decision. The number one benefit of an electric range is the price.
The second feature is its large cooking capacity and its smooth gliding racks. The third feature in an electric range is the control touch and convection options. The fourth feature is the option of self-cleaning. When buying an electric range, any worries about price can be alleviated immediately. Most retail stores will offer some kind of rebate upfront on energy star appliances which can save you money right off the bat. An electric range is also less expensive and is more widely used than non-electric appliances. This is because electricity is often more available than gas as a reliable power source. There are many options available in an electric range when it comes to cooking capacity and types of racks.
The cooking capacities typically range anywhere from 3.0 to 5.6 cubic feet. You will want to choose the capacity that will accommodate your everyday and special cookware. Ovens with split or adjustable racks may also be a good option for your electric range. Another luxury in an electric range is the gliding racks with smooth ball-bearing technology. This makes it effortless when pulling out an enormous Thanksgiving turkey.
Another great feature of an electric range is the control top and convection options. The control top option gives you flexible features for multiple cooking purposes. Many quality electric ranges are brimming with pre-set controls. They help to take the guesswork out of fixing challenging meals. The convection option on an electric range also offers you 30% faster cooking times and prepares evenly baked and beautifully browned foods that seal in juices for beautiful roasts.
The final thing to check in an electric range is the option of self-cleaning. This saves on elbow grease and time. Self-cleaning ovens include extra insulations because of their function. This is another added benefit that makes it more energy efficient. The standard range does the self-cleaning by heating the oven up to about 900 degrees and this high temperature burns off spills and leaves only a little ash that is easily wiped out.
With so many wonderful features in an electric range, it is easy to see why they are so popular. The main reasons include that they are very reasonably priced and are widely available, they have multiple options on the capacity to fit every home, and they have fabulous gliding racks that make life so much easier. The electric range also offers a control top and convection option that shortens cooking times and can save you valuable time by doing the cleaning for you. With so many electric ranges bursting with cool features, it will be fun to choose the electric range that is right for you.