Fall Garden Chores, Part 1
by Dan Eskelson on Apr 30, 2012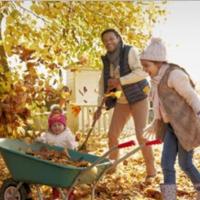 Please also visit part 2, Fall Garden Chores
Seems like summer came and left extremely quickly this year - I think La Nina stole much of our warm weather and sent it somewhere else - it was a pretty cool season. For those of us in the north, it's time to prepare the soil and plants for hibernation - here are a few chores to add some warmth to these autumn days:
In your vegetable garden, make sure you remove all weeds before they set seed - better to deal with them now than in the spring. It will pay to prepare at least one or two planting beds for early spring use...this will allow planting before the soil will allow tillage. I work in alfalfa meal, fish meal and kelp, thoroughly mix and rake semi-smooth - then in the spring, just a light raking is all that is necessary before planting.
If you still have six to eight weeks before your soil freezes, you can plant or transplant woody ornamentals and perennials. Be sure the plants receive adequate water throughout the fall - once the soil freezes, they won't be able to take a drink until spring. Mulch perennial beds and roses well, but wait until the ground is close to freezing...the point is to keep the soil from cycling back and forth from freeze to thaw.
Round up and clean all your garden tools; sharpen hoes and shovels with a file, treat wooden handles with oil, replace broken or worn out tools. Power tools require simple, but very important winterization procedures; consult your owner's manuals or talk with your mechanic.
Fall is a good time to take stock of this season's successes and failures; sometimes the idea that seemed so good in the spring didn't quite make it through to the fall. Make any necessary changes to the garden plan on paper and note which areas will need alterations next season. Make a list of topics that you should, or would like to, learn more about this winter.
Please also visit Fall Garden Chores Part 2 of this Article