Benefits of the Convection Microwave Oven
by Guest Post on Mar 29, 2011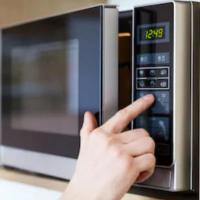 There are many reasons that a person goes shopping for a new appliance, but if you are in the market for a microwave oven, you may want to consider a convection microwave. A conventional appliance is perfect for reheating meals and warming things. However, if you like to use your oven frequently but just don't have the time, or you live in a place that has a long summer season and you hate to heat your house, then the convection microwave is an appliance you should consider. There is a great deal of energy savings possible if you like to bake frequently because the convection microwave uses less energy than a conventional oven.

For someone who lives in a small apartment without an oven, a convection microwave is an excellent way to still be able to brown, broil, and baked foods. As you can see, this might be the perfect solution for the college student who doesn't want to eat out all the time but doesn't have much room in her dorm. Purchasing a convection microwave will give the student many options, especially if she chooses a model with a grilling option. Of course, the model size will vary with the one you choose. You can get large and small countertop models as well as the popular over-the-range convection microwave ovens.

There are many features available with each brand and size of the convection microwave. Depending on your needs and wants, you should be able to find just about anything you are looking for. One of the main benefits of a convection microwave is the way convection works for reheating foods. Because the air circulates differently in a convection microwave than in a conventional appliance, the air is more evenly distributed. This means that cold spots in food will be virtually eliminated. Also, the circulation of the convection microwave keeps your meal from burning on the edges. Regular microwave ovens sometimes have this problem when food is of varying thicknesses. The results of using a convection microwave are beautifully baked cakes and cookies or fabulously browned poultry that you can roast without any hot or cold spots.

With a convection microwave, you not only have the benefit of the fan-circulated air for even heating, but also the added speed that we all appreciate from the conventional microwave oven. Unlike traditional microwaves, the convection microwave uses air circulation to achieve browning or even crisping. The air circulation used by the convection microwave keeps the food from being insulated by the layer of cool air that is usually present in conventional appliances. This layer of cool air prevents the heat from reaching the food effectively, and temperatures must, therefore, be increased.

Because the air circulating through the oven is hot, the convection microwave can brown and bake at lowered temperatures. Lower temperatures and faster cooking times translate into lowered energy costs when using a convection microwave rather than a conventional oven. For the person who likes to be able to prepare gourmet dishes that are versatile and delicious, the benefits of the convection microwave are obvious.