All About the French Door Refrigerator
by Guest Post on Mar 29, 2011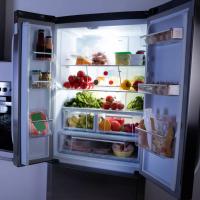 French door refrigerators are a fairly recent addition to the private and commercial refrigeration market.  Combining the user-friendly functionality of the side-by-side double door refrigerator model with the roomy compartments and space of the bottom-mounted freezer door, French door refrigerators utilize the best of both worlds to bring you a refrigerator guaranteed to meet your needs.
There are a lot of different options to look for when you're deciding to purchase French door refrigerators.  When you're looking at French door refrigerators to buy, make sure you know what your options are.  Do your research!  Qualities such as storage capacity, energy efficiency, extra amenities such as an ice maker, filtered water dispenser, and door alarm feature, size of the model, as well as the cost of the model are all things you should consider before purchase.  Many special features and amenities are available for either a no cost or low additional cost, while others may not come standard with your French door refrigerators.  Do your homework and know what type of features would best serve the needs of your kitchen, what types of features are offered for each make and model of French door refrigerators, and what kind of cost you can expect to pay.  Many refrigerators also come in a variety of colors and finishes so keep in mind what type of color of finish you're looking for to fit into the style of your kitchen.  Before purchasing a French door refrigerator, make sure you know exactly what size space you are working within your kitchen.  Measure the space instead of estimating to make sure that you are purchasing French door refrigerators that will fit easily and neatly into the existing space in your kitchen.
Because of their uniquely designed structure, French door refrigerator models offer some of the largest capacity storage on the market.  The side-by-side double doors open outward, giving the entire width of the inside of the refrigerator, as well as the inside of both doors to store all of your cold products. One of the additional advantages to having a side-by-side double doors feature is that it leaves external space for your ice maker and filtered water dispenser, so you can enjoy these conveniences without sacrificing the space of the refrigerator.  Many other types of refrigerator designs utilize an internal ice maker or filtered water dispenser which can greatly compromise the amount of space available in the refrigerator.  Owning French door refrigerators virtually eliminates this problem.  The bottom-mounted freezer door pulls out from French door refrigerators and offers divided sections of varying sizes to store all of your frozen products.  The convenient pull-out option allows easy access to everything in your freezer.
Many different manufacturers on today's market offer many different makes and models of French door refrigerators.  These French door refrigerators come in many different sizes, colors, finishes, and budget ranges, to make it easy and convenient to choose one that will work for you and your family.