How to Remove Limescale from Your Shower
by Guest Post on Mar 26, 2010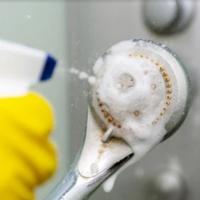 You have invested in your dream shower, you have only been using it for a couple of weeks and you notice the limescale marks marring the appearance of the glass. How can you restore your sparkling and expensive glass to its former glory?
Limescale is unsightly and more importantly, it can harbor dangerous bacteria. It can restrict water flow, cause upkeep issues, and increases maintenance costs.
There are many products on the market that claim to remove limescale, but they can be expensive do they really work? Prevention, in this case, can be better than a cure!
A quick internet search reveals a baffling range of homemade solutions to the limescale problem, some of them quite bizarre!
Here are a couple of the most 'practical' tips for keeping your shower glass limescale free:
Save yourself a world of scrubbing, by keeping a squeegee in the bathroom and going over the shower glass after each use you can minimize limescale build-up.
Make up a solution of half water and half clear vinegar, put it into a spray bottle and spray onto the glass, leave for 10 minutes or so and then wash off, dry the glass with a paper towel or J-cloth.
Heavy deposits can be tackled with two parts washing soda to one part vinegar or lemon juice. Apply the paste with a damp cloth, leave for 10 minutes then sponge off and rinse.
Some other promising solutions for removing limescale include:
Use leftover white wine to remove limescale from the glass.
Lemon juice to avoid the smell of vinegar with baking soda.
Use Coca-Cola to do the same!
Whilst we are on the subject.... cleaning the showerhead:
Remove your shower head, remove its cover if possible, put both parts into a container filled with warmed white vinegar, and soak for 20 minutes. Do not boil the vinegar.
If you cannot remove your shower head fill a small plastic bag with 2-3 inches of white vinegar and tape it to the showerhead, ensuring that the faceplate is completely submerged. Leave it for 15-20 minutes. If your shower head has a brass or gold finish, do not soak it for more than 30 minutes. Clear clogged holes in the showerhead with thin wire or a paperclip.