Cleaning Grandfather Clocks
by Guest Post on Feb 24, 2010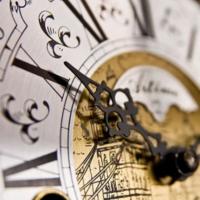 Cleaning grandfather clocks is not the easiest process but, is definitely worth the time. Keeping grandfather clocks clean is just as important as cleaning your car. The value of clean grandfather clocks will be much higher than grandfather clocks that sit in the corner collecting dust and grime. Grandfather clocks can be cleaned right at home with a little patience and some technique.
These are the 5 steps to Cleaning Grandfather Clocks  
Step 1: Pull your grandfather clock away from the wall without banging it on anything preventing marks and dings. It is better to use an extra person when moving grandfather clocks, to help assure security from falling or getting dings.
Step 2: Use a soft cloth or feather duster when cleaning grandfather clocks. This will keep from causing scratches. Continue by dusting the grandfather clock's glass surface. Open the door to the pendulum. Very carefully, dust in the pendulum compartment area, ensuring not to bump the pendulum.
Now that you are done removing the grandfather clock's loose dust and debris, it is time to apply high-quality furniture polish to your grandfather clocks.
Step 3: Apply the high-quality polish of your choice to a very soft cloth following the polish application guidelines. Starting from the grandfather clocks top, apply the wax to the grandfather clocks surface using small circular motions. Always start from the grandfather clocks top and work your way to the bottom.
Now that the grandfather clock's surface is covered with the polish of your choice, the dried polish must be wiped off.
Step 4: Discard the first cloth used for applying the grandfather clocks polish. Take another clean soft cloth and remove the dried wax in small circular motions working from top to bottom. This process will ensure the beautiful shine on the grandfather clock.
Step 5: It's time to clean the grandfather clocks glass. Do not spray directly on the grandfather clock's glass ensuring there will not be any spotting on the grandfather clock's wood surfaces. Using a non-ammonia based glass cleaner, spray the cleaner on the cloth and then clean the grandfather clocks glass surface.
Remember to use caution when moving grandfather clocks. Some grandfather clocks can be quite bulky and heavy. Using an extra person when moving grandfather clocks will ensure that grandfather clocks will not fall or be moved into something causing scratches and marks that cannot be removed. Clean grandfather clocks are happy grandfather clocks.