Why More People are Using Steel for Their Home Appliances
by Katie Day on Nov 20, 2013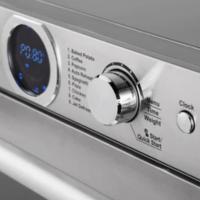 Whether you've been working as a chef in a restaurant or as an interior consultant in a design showroom, you must have realized the numerous benefits of furnishing your home with steel appliances. In case you're still unaware of the numerous benefits provided by this durable metal, this article will provide a lot of useful information. From refrigerators and ovens to cutlery and dishwashers, steel appliances are considered to be the most stylish and elegant items in contemporary homes. Due to these benefits, more people have started using this metal for their home appliances. Here are some key benefits of using this metal for your home appliances. 
Scratch and Rust Proof
Usually, homeowners are worried about rust and scratches on their metal appliances. Unlike other metals, steel is scratch-resistant and rust-proof. Most metals get discolored easily but this is not the case with steel. In fact, some dirt or little scratches on your steel oven or refrigerator simply disappear after they've been cleaned. This makes your home look tidy, sleek, and glittery.
No Visible Stains - Cleans Easily
Appliances made from this metal are stain-resistant even after repeated use. Most homeowners worry about stains on their cooking appliances caused by leftover food. If you don't want any problems while cleaning your appliance parts, steel appliances will be your best choice. Wiping your appliances clean is a very simple and easy task. You will just have to use soap and water to cleanse the parts. You can use a soft and dry cloth to wipe your appliances clean. However, it is important to avoid steel wool as it causes rust and scratches.
Germ Resistant
Unlike plastic and wood, this metal is non-porous in nature. Therefore it does not invite germs like other materials used to manufacture home appliances. These appliances are completely safe to be used in every home. You can simply use a disinfectant cleaner to keep them germ-free.
Durable
Steel is a very durable metal that lasts much longer than plastic, glass, and ceramic. This metal has an inherent strength to sustain extremities of temperatures. In addition to this, steel does not chip or break easily.
Stylish and Sleek
Whether you have a contemporary kitchen or a traditional kitchen, steel appliances will make sure your place looks stylish, sleek, elegant, and beautiful. This metal gives a lustrous aura and makes your home aesthetically more appealing.
Hygienic
According to most health experts, this metal does not react with the ingredients or content of food. Therefore, your food does not get contaminated. Thus, it is very hygienic and keeps you safe from the unintentional consumption of toxic substances. Steel appliances are some of the safest and most hygienic appliances on the market.
Price
Last but by no means least you also need to consider the price factor of using steel for your home appliances. Although this material costs a bit more than ceramic or plastic it saves a lot of money on the cost of replacement. You won't have to replace parts of your appliances for many years to come. Whether you are looking for dishwashers, oven parts, or refrigerators you need to compare a wide range of appliances for your home which can be manufactured by Cyclone Steel.
While buying steel appliances from Cyclone Steel Buildings, it is important to know what you are looking for. You should look for customer reviews and testimonials about various appliances on the internet. Buying online can also be a smart choice.