Lawn Irrigation
by Amazines on May 1, 2012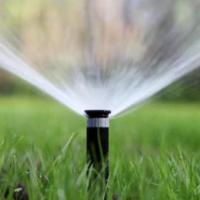 Summer is meant to be a time of relaxation and refreshment, and that is why many homeowners are turning to installed lawn irrigation systems to save them the trouble of dealing with yard work. Not only do installing yard irrigation systems in save time and money, but they are also great at saving water. Whether the lawn is large or small, flat or sloped, lawn irrigation systems are tailored to fit your yard's needs and keep it looking healthy and green all summer long.
Homeowners have a choice of two different types of sprinkler heads when deciding what is best for their yard. The spray and rotor head can both be used for watering a lawn, but there are differences in the way the water. A spray head is usually used on flat, small plots of land because it will discharge more water over a short amount of time. Spray nozzles do not rotate, but they do come in a variety of patterns and distances.
For a large yard or a yard with slopes and uneven surfaces, the rotor head is a better choice. The rotor head rotates and distributes water at a slower rate than the spray head. Because the nozzle is bigger, there is less chance of it getting clogged and it can water just as much land as a spray, but with fewer sprinkler heads.
Whichever sprinkler is installed, there is no denying the countless benefits received from an installed lawn irrigation system. Store-bought sprinklers run the risk of watering more driveway than the yard, and that is a quick way to wastewater. Hoses have to be untangled, recoiled, and stretched all over the yard. The time and energy put forth running inside and out to turn off the sprinkler still don't ensure that you're even watering the right areas or giving enough water to your lawn. With an installed irrigation system that is set to turn on and off consistently, that will never be a worry again. Each system will also ensure that your lawn gets the right amount of water where it is needed most.
Money can also be saved with lawn irrigation systems. Summer used to be the time of high water bills due to the constant struggle to keep a lawn looking green and healthy. With an installed irrigation system, a homeowner can expect a lower, steady bill with no surprises. Irrigation systems will save water by turning on and off at a consistent time, and because they target the roots of a lawn the amount of run-off is kept to a minimum.
The environment will also benefit from the conserved water and the proper application of water to a homeowner's lawn. Installing an irrigation system forces a homeowner to understand and take responsibility for their lawn and water used, and when you understand what your lawn demands you will be able to wield better results. More plants, a healthier yard, and a fresh environment are just a few benefits of a well-watered lawn.
For those who travel or who would rather be sleeping in on the weekends than out watering an an irrigation system is a must have. Installed irrigation systems only need to be programmed once and can be controlled after with a push of a button. Homeowners will never have to worry about leaving their lawn and coming back to it brown and dried up. Sensors can be connected to keep the sprinklers from wasting water when it rains, and homeowners get to choose the time and duration of each sprinkler round. Watering your lawn has never been so simple or consistent.
With all the time and money saved using an installed irrigation system, homeowners can finally make the most of their summers. The process is simple and the results are priceless. It has never been so easy to have a green and healthy lawn, and with minimum effort. Forget about hoses and sprinklers and wasteful run-off. An installed irrigation system will take care of your lawn personally and regularly.