Basic Air Conditioner Maintenance Tips
by Guest Post on Apr 3, 2012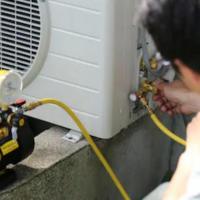 Come summers, and we start worrying about our air conditioners' maintenance. Just like any other electronic device, Air conditioners also need regular tune-ups so that they can work efficiently and smoothly. Particularly when you use your central air conditioning after a gap of a few months, they get rusty, tend to lose efficiency, and consume more power. But with regular air conditioning maintenance, your air conditioner can become efficient and also save you on electricity.
With some basic tips, you can ensure that your central air conditioning unit remains robust. Here is a checklist that will tell you when do you need professional services and in which situations you can take preventive actions.
•    Air Conditioning Installation is a tricky process. It requires great acumen to install the air conditioner properly.
Hence always call an expert and certified technicians for central air conditioner Installation.
•    Change air filters regularly. Dirty air filters restrict airflow and hence reduce the cooling efficiency.  If your Air
Conditioner faces the area that is open to dust and dirt, it is recommended to clean the fiberglass filters every 15 days. In other cases, you can clean them after every 20-25 days.
•    When your unit is not cooling properly, check whether the thermostat is set in the cooling mode. Only setting the dial below room temperature will not activate the air conditioning if it is set in the heat mode.
•    The major Air Conditioner components are Evaporator, Condenser, and Compressor. The other important parts are the motor, blower, and ductwork that help in distributing cool air from the air conditioning system. To ensure the longevity of your unit, all these parts need a proper and timely tune-up.
•    The heart of the unit is its compressor. It needs intense care as it is also the most expensive unit of an air conditioner. Sometimes, it also leads to the complete replacement of the compressor or sometimes the entire condensing unit.
• Many times, low Freon levels cause overheating which results in premature failure of the compressor. Whenever you feel that your air conditioner is not cooling properly, it may be because of low Freon levels. Please note that Freon is an Environmental Protection Agency controlled substance and hence it should always be added by registered and licensed AC mechanics only.
•    A compressor is mostly located outside the home, they need proper care. Remove all leaves or grass, etc. that collect near the compressor. Clear off the debris from the compressor housing and rinse it off every 20-25 days. You can also clean the aluminum fins with the help of a paintbrush.