Using Biomass to Heat Your Home
by Guest Post on Jul 7, 2010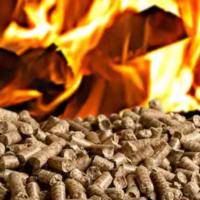 With skyrocketing oil prices and growing concerns for our planet, homeowners around the country are searching for affordable and environmentally responsible ways to heat their homes during the winter months. This is the time of year when energy usage is at its highest, and fossil fuels are gobbled up by traditional heating methods.
Homeowners searching for an eco-friendly alternative to wood stoves, oil, or gas furnaces can now get stoves that use either corn or pressurized wood pellets as fuel, and do a great job of heating the home.
Resembling a wood stove in appearance, pellet stoves are attractive additions to any home and are available in various sizes and price points. Compressed wood waste like sawdust is used to fuel these stoves, which means that no trees are cut for heating. Pellet stoves also produce far less pollution than any other heating method, which means they're the best option for the outside environment and indoor air quality.
Pellet stoves require a very small amount of electricity to run. This keeps costs down, but can be a problem in the event of a power outage. Some stoves feature an automatic shut-off that is activated when the electrical supply is interrupted, while others have a backup battery that enables the flame to continue unimpeded.
Unlike wood stoves, pellet stoves don't require constant attention to keep the flame going, and no chimney is required. A pipe can be vented through an outside wall, making them flexible in terms of placement. In addition, the small amounts of ash that are produced during combustion can be recycled as a nourishing garden fertilizer.
Corn burners are very similar to pellet stoves. You can now buy models that are compatible with corn, wood pellets, or other biomass such as cherry pits. Corn-burning stoves are energy efficient and shelled corn has been proven to be a clean-burning fuel that doesn't add pollutants to the environment.
Choosing to burn corn also reduces the amount of energy that goes into shipping fuel supplies to the area. You can purchase shelled corn from local farmers, which helps the economy and reduces dependence on foreign-produced oil. Besides, corn is widely available, so you can take comfort in knowing that you're not depleting precious resources while heating your home.
Those who've never used a corn-burning stove may worry about the smell of popcorn radiating throughout the house, but homeowners who use corn as a heating method say that odor is not an issue. Outside where the exhaust is vented, there is a slight smell reminiscent of roasting corn, but it's neither strong nor unpleasant. Many find the gentle aroma to be warm and inviting—which is a nice change from the smell of smoke that pours out of our fireplaces.
Corn and pellet stoves are continually improving in design and function. While many models work best as a supplemental heat source, manufacturers are developing biomass furnaces that are both energy efficient, and able to heat the entire home. There are also new models on the market that require far less maintenance than pellet stoves that require daily ash removal and cleaning. Look for stoves that have a self-cleaning firepot, so that you only have to clean the ash pan once a week.
If you're looking to keep your home cozy this winter, reduce your carbon footprint, AND save up to 80% on your heating bills, look for smart heating alternatives like corn burners and pellet stoves; they offer an attractive and energy-efficient way to stay warm this winter.