How to Measure Plantation Shutters
by Guest on Nov 19, 2014

Plantation shutters are common from Florida to California, where the louvered varieties are used to create a lush, often sultry aesthetic and ambiance. They've become a design statement with one very powerful selling point: unlike soft window dressings, their rigid framework allows them to be shaped to fit almost any aperture, even including round windows.
When recording any sort of dimension, it's important to know the correct terminology for the measurements you're taking. The proper ways to refer to parts of a plantation shutter are:
Stiles; the vertical part of the frame
Rails; the horizontal part of the frame
Louvers; the usually angled slats spaced at regular horizontal intervals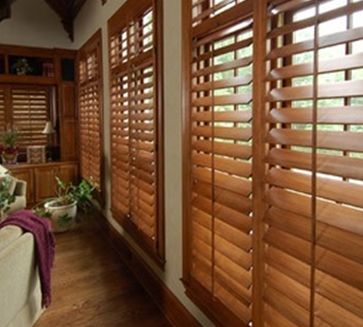 Use a steel tape to make your measurements, not a cloth tape or short rulers. For most suppliers, measurements made to the nearest 1/8-inch are adequate. Remember to note which figure is the horizontal measurement, and which the vertical. For both height and width, measure in three different places, then record the smallest result (most window frames are not precisely square).
Always buy units that have side rails measuring at least 1-1/2 inches in thickness. This prevents eventual warping of the shutter but needs to be factored into the overall external dimensions. 
Points to Remember
Because shutters with operable louvers - slats that rotate to open and close - do not have different exterior dimensions, the style of plantation shutter you have in mind doesn't affect the measurements your manufacturer will need.
Plantation shutters are typically fitted in pairs and are thus hinged on either side of the window. It's usual to fit them inside, as opposed to severe weather units, which are invariably exterior fitments. Measurements, thus, must take into account interior decor - you wouldn't want to order a set that had to be hinged on an ornamental dado rail, for instance.
Be aware of other obstructions that may prevent your shutters from opening completely. If a pipe runs up a wall close to the window, it may prevent an open shutter from being folded flat against the wall. In this case, you'll need each shutter to be a bi-fold or accordion unit, similar to collapsible doors sometimes used to access kitchenettes. 
For plantation shutters mounted inside the window frame, round your measurements down to the closest 1/16th of an inch. For shutters mounted outside the frame, measure the area you wish to see covered, as opposed to the window itself.  
If your plans include a divider rail - a horizontal reinforcing strut running from side-to-side across the shutter - it needn't be central. Style-conscious designers often break shutters into threes, with the divider rail one-third of the way up from the bottom. This layout allows for operable louvers to be set at different angles within the shutter; the lower third blocking the sun from your carpets and seating, for instance, while the upper two-thirds bathe walls in subtle, subdued light.