DIY: Fit Your Own Wallpaper
by Lorena Benchis on Nov 18, 2011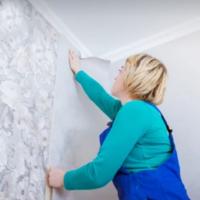 Long gone the days when wallpaper was only seen in your old gran's house, today, wallpaper is one of the trendiest most fashion forward touches you can add to a house, and it can truly make the difference between modern contemporary and boring wannabe modern contemporary. So if you're thinking of adding wallpaper to your home then here's a step-by-step guide on how to do it.
STEP 1: Get all the tools you need. Obviously, before you do anything you need to make sure you've got all the tools. It's almost like cooking, you can't make a meal unless you've got all the ingredients. Or maybe let's say you can try, but you probably won't succeed. So you need to make sure you have things such as paste, a pair of scissors, a spatula, a wallpaper knife, a paintbrush, water, and a cloth. And obviously, last but not least you will need the wallpaper itself.
STEP 2: Be safe. Make sure you cover all surfaces which you might potentially damage while fitting your wallpaper. Things such as your bed, your wardrobes or your bedside tables might suffer if they come in contact with paste or might get scratches from your knife or scissors and you don't want to be spending money on new ones.
STEP 3: Apply the paste. Take some paste and gently apply it onto the wall with a roller. Make sure you don't use too much paste because it might stick out and you don't want that, but also make sure you use enough because the last thing you want is your wallpaper to be falling off your walls.
STEP 4: Hang your wallpaper. Now you need to take one length of the wallpaper and hang it on the wall that's got paste on. Make sure it's the right length and that it's not sticking out anywhere by gently pressing it onto the wall with your hands.
STEP 5: Smooth your wallpaper. Besides doing it with your hands, you should also do it with a roller to make sure it's all perfectly smooth and there are no air bubbles. Remember, you'll be stuck with this wallpaper for a while so you want it to look good and smooth. Also, trim the excess wallpaper using your scissors. Make sure you get the right dimensions.
FINAL STEP: Enjoy the results!