7 Simple Ways to Get Rid of Termites in Your Home
by Guest on Apr 25, 2016

Termites are the most destructive pests to have in your home! This is because they can actually destroy your whole house. If you suspect you have termites in your home, you must make every effort to get rid of them before they do a significant amount of damage that will cost you thousands of dollars.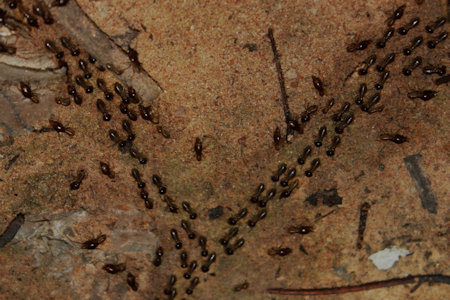 There are basically two types of termites. The first type is the Dry-wood termites which are mainly located in dry wood and are easier to find. The second type is Subterranean termites which live mainly in the soil and are harder to detect than the dry wood termites because they hide in the ground and can work their way into the building.
The following are several ways of how to remove termites from your home, depending on which type they are:
1. Use bait.
This is effective for dry-wood termites. Put some bait in a strategic place then spray boric acid over the wood. As the termites come out to eat the bait, they are killed by the boric acid. You need to keep spraying the wood regularly so that eventually all the termites will be killed.
2. Remove all rotten wood and wooden mulch.
Termites love wet, rotten wood, it's what they feed on. If you remove the wet wood and wooden mulch, termites will no longer live in your home, they will move with the wood. Also if it's a piece of furniture that's infested, then take it out into the sunlight for several hours. The termites will die when exposed to direct sunlight because they thrive in darkness.
3. Use insecticides and foam
To use this method, you need to be away from your home for a while. It is a quick way to get rid of dry-wood termites because the poison from the insecticide seeps into the wood openings and kills the termites effectively.
4. Flood the soil.
This is a great way to get rid of subterranean termites.  Simply flood the whole area where the termites are with water. Termites cannot swim so they drown quickly.
5. Use extreme temperatures.
Termites cannot live in very cold temperatures i.e.below -20 degrees Fahrenheit. For Subterranean termites, liquid nitrogen is used outdoors to create cold temperatures; the termites die as they encounter the extreme cold.  On the flip side, termites cannot live in temperatures above 120 degrees Fahrenheit, so one way to create this high-temperature outdoors is to light a fire in a safe place, the termites will be killed by the heat.
6 Use of nematodes.
This works very well for subterranean termites. Nematodes are small worms that are parasites to termites. The nematodes burrow themselves into the termite larvae and cause them to die within 48 hours. Eventually, the number of termites in the garden will reduce drastically.
7. Cardboard trap.
Use simple wet strips of cardboard stacked on top of each other. The termites will be attracted because they feed on cardboard. Once the cardboard is full of termites, burn it in a safe place. In this method, you need to repeat it several times to be effective.
You are now equipped to get rid of these terrible pests! Go ahead and have a clean, termite-free home.