A Breakdown of the Various Dewalt Circular Saws and Which one to Choose
by Lyle MacLeod on Aug 29, 2019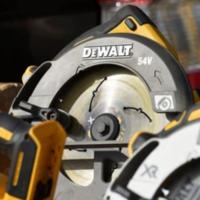 Dewalt is one of the most notable circular saw makers on the market. This is because their products are not only of high quality but also deliver great performance. However, Dewalt has many types of saws that are designed for different purposes. Whether you are looking for a professional circular saw or one for your home-based DIY projects, Dewalt has your back. This is because the company has a range of products that meet different customers' needs. Below, we will explore different circular saws from Dewalt to help you identify the one that suits your needs the best.
Dewalt DCS575B Flexvolt
Dewalt DCS575B Flexvolt is one of the most loved circular saws from Dewalt. This is because it comes with amazing features that make it ideal for its job. To begin with, the Flexvolt is fitted with a powerful motor that spins at over 5800 rpm. This gives the user a wide range of speed capabilities that can handle different materials. The DCS577X1is also fitted with a 7¼ carbide-tipped blade that easily cuts through hard materials. This is especially considering that the saw is versatile as it is designed for both light and heavy-duty use.
Dewalt DWE575SB 
Just like many other circular saw makers on the market, Dewalt has ventured into making circular saws that cut accurately.  One of their most notable products is the DWE575SB. This tool comes with a laser guide function that tells users where the blade is going to pass during a cut. This is very helpful especially when you are making long and straight cuts. Also, the saw is powered through an electric cable that provides an unlimited supply of power which enables the unit to handle heavy-duty applications. Also, the long cable on the DWE575SB has a protection system that protects it from damage when pulled out to the limit.  
Dewalt DCS571B
The other option that you have when it comes to Dewalt circular saws is the DCS571B. This product comes with amazing features that appeal to the needs of the most demanding users. First, you will find that the circular saw comes with a 20 V lithium-ion battery that delivers impressive power to the motor. This is very important for it enables the saw to work for hours without losing power.  In addition, the battery delivers more power than all other options on the market. 
Dewalt Flexvolt DCS577X1
An alternative Dewalt product that you can go for is the DCS577X1. This particular saw comes with ample power that caters to the needs of the user. To begin with, the saw is fitted with a 9 amp motor that can cut with a lot of strength. Furthermore, the tool is also fitted with a 60-volt battery that supplies consistent power to deliver the maximum amount of torque to the blade. This can help you cut through multiple materials including hardwood without much struggle.
Conclusion
Dewalt has many circular saw models that are designed to handle different types of work. If you look closely, you are going to find a model that appeals to your needs the best.