Why use a Plant or Tool Hire Company?
by Guest Post on Jul 19, 2010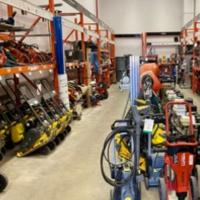 Even the most simple DIY job around the house can call for a variety of tools which can be very costly. These tools are often only used once or twice and either lent out never to be seen again or get added to the clutter in the back of a garage or shed.
By hiring tools such as welders, drills, and plant machinery you gain greatly from various benefits available from a hire shop.
Some tools and machinery can be bought at a very cheap price but you really do get what you pay for. When hiring tools from a hire company, you are sure to get a top-quality piece of machinery as these tools have to withstand a lot of use and adhere to the highest health and safety regulations. They also achieve the best possible finish or job.
Health and safety are paramount when using tools and machinery and hiring company staff is usually fully trained in servicing, pat testing, and repairing all their equipment. By hiring tools, you are saving on servicing and repairing costs that you would otherwise have to pay for should you own the tool.
Most local hire shops such as tool hire Yorkshire companies can deliver the equipment to your location which is a really good point to look for when choosing a hire company. For DIY customers is also important to make sure they can deliver or can pick up the equipment on a weekend as this is when DIY work tends to be carried out. A plant and tool hire company often stock a huge range of equipment to hire from access, lifting, and cutting equipment to garden, cleaning, and welding machinery.
Another benefit of using a tool hire company is that many also do servicing and repairs of tools and machinery you may own. These servicing and repairs can either be done at the plant hire premises or some companies do on-site repairs and servicing which can often be far more convenient for the customer.