Cutting the Confusion on Setting Bandsaw Blade Tension
by Guest on Apr 18, 2013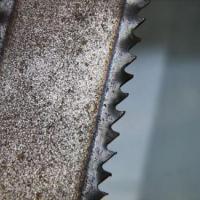 Every woodworker will have a unique method for determining the correct blade tension on a bandsaw.  Some may rely on sight or even sound to check that they have the correct setting, and others will use expensive equipment to get an accurate reading. 
Attempting to saw a piece of dense material with an incorrectly calibrated blade could result in an uneven finish, and possibly ruin many hours of work.  To avoid this it is essential to check that your bandsaw is set to the correct tension for the thickness of the blade, and some methods employed by other workers may prove inaccurate. 
A beautifully crafted piece of wood requires skill and reliable tools, so by making sure your machinery is properly set to the task in hand, you will be able to continue your work with confidence.
Don't Play It By Ear
For those with pitch-perfect hearing, it is possible to judge the tension by plucking the blade and listening to the tone it emits.  Whilst impressive, this is not an accurate way to gauge tension and could result in uneven edges or even a snapped blade.  Others will simply adjust the tension until the saw feels comfortable, and use the same tension setting for many different types of wood.  This can give unpredictable results as materials of different densities require specific tension settings. 
It is important to remember that you only need to set the blade to maximum tension if you will be sawing very thick or dense wood and that it is advisable to relax the tension when it is not in use.
The Right Tools For The Job
The only way to accurately determine blade tension is to invest in a tension meter. These are handheld devices that work by gripping onto the blade and measuring the tension using a system of rollers.  Whilst the models from well-known brands can be expensive, it is possible to pick up secondhand or cheaper models on sites such as eBay.  If you cannot find a tension meter within your price range, there are other methods you could try.  Once the blade is securely in place, move the guide blocks out of the way and push against the side of the blade. 
Begin to tighten it in small increments using the tensioning knob until it moves no more than a ¼ inch when depressed.  When using this method it is advisable to perform a trial run with a piece of scrap wood to ensure it is correctly calibrated for your chosen project.
What Does It Say On The Box?
The majority of blade manufacturers recommend a tension setting of 15,000 psi to 20,000 psi based on a regular carbon steel blade.  This varies widely when using blades of different materials, and a carbide-tipped blade will command a tension setting of up to 30,000 psi.  If you are using a large industrial bandsaw it will most likely have blade tension scales built-in. 
Unfortunately, these are often faulty and will regularly show tension readings that are much higher than the blade is calibrated to.  To compensate for this inaccuracy, set the tension for the blade you are using to the recommended settings of the next widest blade.  When adjusting the tension it is important to work slowly and avoid over-tightening.  If a blade snaps during sawing it can have disastrous consequences and could result in injury to yourself and expensive damage to your bandsaw.