How Inclement Weather Can Affect Your Pool
by Tammy Emineth on Mar 11, 2019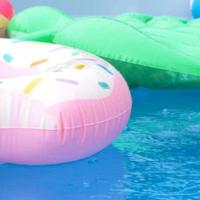 Only a few months into 2022 and it has been the craziest winter on record for a number of years all across the country.  Heavy weather systems can change the quality of your pool water in any season. Check out these different weather scenarios and how they can change the quality of your pool water.
Heavy Rainfall
Places like Arizona may not get a lot of rainfall, but when they do, it can get pretty heavy. When a significant amount of water falls out of the sky in a short period it can change the balance of your pool water. The biggest impact that heavy rain has on pool water is diluting the chemicals even further, making the perfect balance in your pool water non-existent. It is a good idea to check the balance of your pool water after a heavy downpour.
Rainwater also carries a lot of dirt and bacteria. With the diluted water, this can mean weak chlorine as the bacteria attacks it. In places like the Pacific Northwest or even in Florida where rain will dump in just a couple of hours and then be perfectly hot and sunny the next minute, rain can bring a lot of debris with it. Hot, muggy weather can hold onto a lot of bacteria so, in places like Florida and the south, extra care must be taken when cleaning and protecting a pool.
Read more: What Rain Water Really Does to Your Pool
Lots of Sun
A hot sunny day is a perfect time to hop into the pool. Though the weather is amazing for enjoying the water, many hours of super-hot sunshine can deplete the chlorine much faster. So on long hot days, it is a good idea to check chlorine levels.
Additionally, if your pool has seen long hours of use on hotter than normal days, there are more bodily liquids and oils in the pool water. Pools that have heavier usage require more chemicals to keep them in balance. In the event of several hot days in a row, the pool water also evaporates at a much quicker rate, so water may need to be added to the pool.
Related Post: Can you get insurance on an older home or one with a pool?
Quicker algae growth is also a concern in warmer weather. So, after a long hot day it is best to check the chemical balance and especially the chlorine levels in order to keep enjoying crystal clean (not algae green) pool water ready to take on lots of use.
Very Cold Weather or Snow
It doesn't happen very often in Arizona and the dryer states, but this year has shown that anything is possible. In times of super cold weather where temps hit below freezing it is best to keep the water circulating through the pipes to avoid any frozen water blockage and the possibility of burst pipes. This will make it easier to open the pool back up when the weather warms up.
More: Tips on Buying a Home with a Pool or Hot Tub
So, when the weather is more extreme than usual, make sure to give your pool some extra care and attention. A professional pool care specialist can help you to keep your pool balanced at all times.