Tips and Tricks for Your Pool Filter
by Guest Post on Nov 5, 2013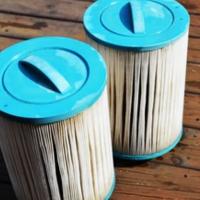 Your pool filter is capable of keeping your pool clean and healthy. The quality of the water inside your pool is important and you need to do all you can to keep it as good as it gets. Your pool filter is going to be responsible for killing bacteria and keeping a lot of the gross things out of your pool. There are some tips and tricks to help you maintain a filter for a longer period of time.
When you want a clean pool, you cannot rely solely on your pump and filter. There are going to be some things you have to do on your own. The more you do, the less work your filter will have to do. Some of the easier things you can do include:
Check chemistry of pool 2-3 times a week
Clean skimmer basket out weekly or as necessary
Clean hair / lint pot inside the pump weekly
Manually skim the pool
Cover the pool when it's not in use
There are some other things you can be doing as well. Wipe or clean the tile line each week. This will not only reduce the build-up found around your pool but also cut down on how much the filter has to do. Your filter can only last so long and if it is constantly dealing with debris and other things, it's not going to last very long.
Take the filter out of the pool and clean it as best as you can. This should be done at least every few months. When you take out the filter, soak them in a solution of 10 percent muriatic acid. When you do this, be sure to wear gloves and eye protection. Rinse the filter until it's clean and then let it air dry before you put them back in.
The more you monitor your pool, the easier it will be to determine when your Intex pool filter needs a little extra care. If the in-floor cleaning system isn't working well or the returns are weak, there may be an issue with the pump. You may need to clean the filter or it may be time to replace it. When you care for your filter, it's going to take better care of your pool.
When you store chemicals for your pool, do so out of the sunlight. If the chemicals are stored in the heat, they may weaken them over time. This may require you to use more chemicals or be unable to achieve the desired balance in your pool. You could then end up spending a lot more money on regular maintenance.
Try and keep as much out of the pool when it's not in use. If your pool isn't under a screen, think about screening in your lanai so you don't have to worry about bugs and vegetation. If it's already under a screen, try to keep animals out of the pool. As much as your dog may want to get inside the pool, the hair and other things are only going to take a toll on the filter.
You need to do all you can to take care of your pool. Think about having some backup filters for your pool so you can put them in when your filter can no longer be cleaned. While you're cleaning one, you can always put in another one. Swapping them out can help to delay the inevitable and let you get some extended use out of them. Especially if your pool doesn't have a lot of activity going on, you may not have to worry about filtering out too much of the junk.
An Intex pool filter is a relatively affordable accessory for your pool, though it's one your pool pump can't live without. By following some basic tips and tricks, you can ensure you get the life out of your filter that you desire so you're not spending a fortune in filters over the course of the year. The more you care for your pool filter, the cleaner your water will be. Clean water will make swimming in your pool more pleasurable all year long.
Author Bio
Bob Quigly is a landscaping and family fun enthusiast who contributes to many blogs on the greatest outdoor trends and great pools tips.