Benefits of a French Door Refrigerator
by Guest on Mar 29, 2011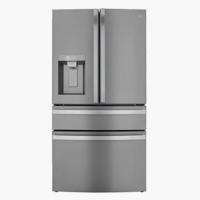 French door refrigerators have become an extremely popular model of refrigerators during the last few years. This surge in sales can be attributed to the recognition by consumers that French door refrigerators offer some distinct advantages over other common refrigerator models, such as the side-by-side or bottom-drawer configurations. These refrigerators have achieved and maintained their popularity by virtue of their quality design, good value, and t elegance.
French door refrigerators are a design twist off the bottom-drawer configuration of refrigerators. Decades ago, the typical refrigerator featured a freezer-on-top configuration, or perhaps a side-by-side fridge and freezer arrangement. However, realizing that the freezer was accessed infrequently, designers began placing the freezer portion of the appliance on the bottom, with a single fridge door mounted above it. These new bottom-drawer configurations allowed easier access to the more frequently used refrigerator portion.
French door refrigerators combine this benefit of bottom-drawer models with double doors on top. This unique design allows the user to easily access refrigerated items without having to open a large, unwieldy door. Additionally, French door refrigerators can simultaneously accommodate multiple users since a person getting water or ice from the dispenser won't be disrupted by someone opening the other fridge door while looking for a snack.
Another benefit of French door refrigerators is their value. Originally a bit expensive, prices have since dropped dramatically, allowing many consumers to afford a French door refrigerator at a reasonable price. In fact, some highly rated models are available at very affordable prices, which has enticed many users to seek the benefits afforded by this unique configuration. For such a reasonable price, many consumers are drawn by their high satisfaction ratings, as well as their undisputed reputation for reliability. Considering the fact that refrigerator purchases are infrequent and that it is an appliance affecting your daily life, many users are unwilling to skimp on this important decision. If you want reliability and satisfaction from your refrigerator, French door refrigerators are right for you.
French door refrigerators are also commonly seen on home and garden TV shows, which depict these refrigerators in well-designed kitchens and beautiful homes. These depictions have led to an increased interest in making French door refrigerators the focal point of homes and kitchens across the country. Today, these refrigerators can be seen in a variety of designer homes, thus making French door models synonymous with luxury and elegance. In fact, some luxury consumer reports will only review French door refrigerators. Therefore, if you are seeking to create an inviting atmosphere that exudes luxury, elegance, and sophistication, this may be the right refrigerator for you.
In summary, French door refrigerators represent a fusion of style and substance that other refrigerator models can't match, which is the primary reason why these models are now one of the best-selling refrigerator models. When it comes to making the decision of what configuration is right for you, remember to carefully consider the refrigerator's design, value, and aesthetic appeal. If you are seeking a refrigerator that artfully combines the elegance of top-grade appliances with the benefits of the best-configured models available, then choosing one of many available French door refrigerators will best meet your needs.