How Your Health Can Improve When You Have a Whirlpool Bath
by Newsy Siso on Dec 17, 2015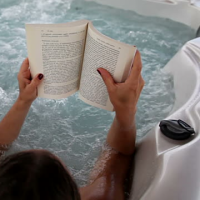 For some of us, whirlpool baths can be considered a luxury item; something that we have as an additional feature to make our homes more stylish and modern and to impress our visitors as well. But for most of us, a whirlpool bath brings with it a host of other benefits, especially when it comes to our health.
For instance, did you know that spending regular time in a whirlpool bath can help those who have osteoporosis? It's true – those with osteoporosis experience immense benefits by spending time in a whirlpool bath regularly because the buoyancy they acquire whilst in the bath, combined with some light exercises, can enhance their strength, flexibility, and mobility.
But you should also know that whirlpool baths have other benefits, health-wise:
Stress reduction and relief
If you have a whirlpool bath at home, nothing is preventing you from basking in a nice, warm bath and simply letting your stress and tension flow away. But it's not only the whirlpool bath's water and water jets that contribute to that feeling of tranquility and peace – believe it or not, but even just the mere of the bubbling water can also make you feel completely relaxed and restful. If you want that extra de-stressing massage, place different areas of your body on the whirlpool bath's different water jets to get more intense pressure (placing your feet, for instance, on the jets can soothe soreness immensely).
Relief from muscle soreness and pain
Whilst exercising brings with it some great benefits (such as losing weight and becoming more toned, of course), your muscles and joints will eventually feel the strain. But if you have your very own whirlpool bath in the comfort of your own home, you can simply turn on the tap, wait for the bath to fill with water, and then ease yourself into a great hydrotherapy massage session. If there is any part of your body that needs special attention or feels especially sore or painful, all you have to do is move around so that this area can get the full intensity of the whirlpool bath's water jets. Some people have compared the massage provided by a whirlpool bath to a deep tissue massage for its amazing effects. Those who have injuries from sports can also benefit from spending time in a whirlpool bath, as the bath aids and quickens an individual's recovery period and helps ease muscle and joint aches and spasms as well.
Improve your blood circulation
The combination of heat from the hot water as well as the water pressure from the whirlpool bath's jets can also serve to improve your blood circulation. When your blood pressure rises due to the heat and water pressure in the bath, your blood vessels will dilate as well, resulting in improved circulation. This is especially beneficial to those who have arthritis and other joint conditions.
Without a doubt, spending time in your whirlpool bath even just once or twice a week can bring great benefits to your health. And when choosing a whirlpool bath, it only follows that you should choose the best – it is, after all, an investment you should be able to enjoy for a long time to come. A whirlpool bath is indeed the best of the best with its bespoke whirlpool bath system, its hydrotherapy benefits, its additional features such as headrests and front and end panels, and, of course, its 30-year guarantee.