Sample Simple Improvement Contract so Contractors Do NOT Take Advantage
by 411 on Mar 14, 2013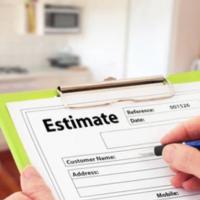 When hiring a contractor to do minor updates to custom home building, it's very important to know what you are getting for the price. To be on a safe side, you must have all your queries answered. Questions regarding cost, liability, insurance, and time should be answered clearly in your quote so that there is no problem in the end.
Contract Agreement for
411 Sample Street
Your City, CA 95111 408 555 1881
www.yourwebsite.com
Total Price of Contract $ 1000.00
(includes materials, labor & Specified paint as described below in detail.)
Contractor's License # xxxxxx
Start Date: Saturday October 3rd @ 7 a.m.
Total Fees Due is: US$ 500.00, check made payable to Contracting Firm
Approval: Before October 3rd at 11 a.m., an approval of color and sheen is required.
Upon completion, please initial here for acceptance: Your Name (___)
Final Completion:
The exact date: October 7th @ 5 p.m.
Upon completion, please initial here for final acceptance: Your Name (___) Contractor (___)
Total Fees Due is: US$ 500.00, check made payable to Contracting Firm
References:
411 Another Sample Street - Exterior painted on 10/98. Contact: Linda @ (408) 555 1881
211 Sample Street - Interior painted on 9/98. Contact: Susan @ (408) 555 8118
Potential inconveniences:
Every effort will be made to work schedules accordingly for both parties. Ultimately access to the house is needed to make the completion date.
To ensure safety, electricity will be turned off during the removal or installation of any fixtures that have electricity. The time will be as brief as possible.
Weather will NOT play a factor in painting delays.
Description of Contact Arrangements:
Internal painting only.
Rooms to be painted will be the dining room, all bedrooms. living rooms, stairway, hallway, and entryway.
Painting includes high ceiling walls in the living room and stairway.
Closets are not to be painted.
Doors are to be removed painted and replaced on hinges.
Degree of Quality:
Ceilings: not painted
Walls: single color, spray, and paintbrush, high-quality work.
Primer: Single coat of seal darker areas, BIN 1-2-3 Primer will be used.
Paint: Up to 2 coats of Ralph Lauren paint.
Sheen: Initial request is satin.
Texture: Will remain the same.
Supplies: All paint and tools will be included in the contract price of the above terms.
Fixtures: All lighting and outlet fixtures are to be removed or loosen and reinstalled for higher quality painting results. Outlet and light fixture plates will be removed and reinstalled. Outlets and Switch NOT to be painted. Vent covers are not to be painted.
Baseboards: Baseboards are to be painted the same color and sheen of walls and doors.
Patching: Minor holes in walls will be patched.
Labor: Contracting Firm - Project Manager & Assistant
Storage: Any related tools and paint may be stored upstairs and/or in the garage until completion.
Building permits: None required for painting and minor maintenance.
Clean up: Will include the removal of paint cans, material, paint tape removal & general clean up and removal of used tools.
Request for unused material: List materials you wish to be saved: ____________________________
Removal of debris: All debris created from contracted work will be removed before final acceptance. The paint will be disposed of following California State Law Hazardous Materials.
Warranties:
Paint and other materials are subject to warranties under their conditions/manufacture. Labor is guaranteed for 60 days after acceptance.
Exceptions/Change Order Request:
Changes require an agreement by both parties in writing. This potentially could delay the completion date.
Recommendations (not included in the contract price and is not scheduled to be done):
Electrical outlet replacement to new cream color quotes $2.50 per outlet.
New outlet cover and light switch cover replacement, $1 each.