How to Choose the Best French Door Refrigerator
by Guest Post on Nov 11, 2011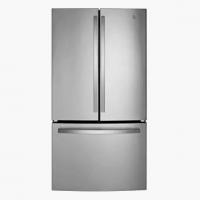 One of the hottest trends in kitchen design is the incorporation of French Door Refrigerators. You may not have heard this term before, but you have probably seen one. French door refrigerators are full width refrigerators with twin doors and a pull-out freezer compartment on the bottom.
French door refrigerators were originally designed with the gourmet chef in mind. Now, however, you can find a wide variety of models designed to fit many different lifestyles. With so many makes and models on the market, choosing the model best suited to your needs can be tricky.
Many consumers prefer French door refrigerators because they are family-friendly. The dual doors are lighter and thus easier to open than those on a single-door refrigerator. This is an important feature to consider if you have young children or an elderly extended family member who will be using the fridge regularly. Most models come standard with slide-out glass shelves complete with a raised spill-catching lip. This makes clean-up a snap when someone doesn't screw the juice lid on all the way or knocks over last week's science project. And let's face it Moms: this happens all too often! Tired of constantly telling the young ones to close the fridge door? Then picking a model with a door alarm is important; or, better yet, opt for a model with self-closing doors. Another family-friendly feature to look for on French door refrigerators is a water and ice dispenser with a child lock.
Other consumers buy French door refrigerators for their usefulness in entertaining. Unlike side-by-side fridge/freezer units, French door refrigerators boast adjustable full-width shelves. This makes loading and unloading things like sheet cakes and party trays a snap. Many models come equipped with climate-controlled beverage chillers. Some even have separate compartments specifically designed for wine, eliminating the need for a separate wine fridge. Another must-have feature to look for when choosing French door refrigerators is an extra tall water dispensing system with a slide-out pitcher rest. Throw in dual-activation water and ice dispensing system and your pitcher will be table ready in mere seconds!
Maybe entertaining isn't as important to you as the quality and freshness of your food. If this is the case, then you will want to look for French door refrigerators that will easily maintain those fresh tastes with humidity-controlled crispers and an adjustable temperature deli drawer. Choosing a unit with a multi-flow air system will keep temperatures even throughout the fridge. In other words, your milk won't freeze if you put it on the top shelf!
French door refrigerators have also been designed with the home-décor enthusiast in mind. The dual doors have hidden hinges, making the appearance sleeker and more sophisticated. Many accept custom panels and handles, helping the fridge to blend seamlessly with your cabinetry.
Whatever your needs, you will certainly be able to find French door refrigerators to fit them. Take your time, think about what is most important to your lifestyle, and then look for a model with the features you need. The money spent on French door refrigerators is definitely worth the investment.