Use a Steam Cleaner to Remove Odors from Your Home!
by Guest on Jan 27, 2012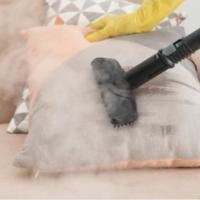 Steam cleaning is by far the best way to completely sanitize your entire home from top to bottom. There are simply no limits to the many surfaces and furnishings in your home that can be thoroughly cleaned by using the power of natural hot steam. This is the only way to kill 100% of all dust mites, germs, and allergens in your home. By eliminating germs and bacteria from carpets and upholstery, you are effectively steam cleaning to neutralize odors, which come from various sources such as pets, humans, dead hair, dander, and ingrained dirt and grime.
It's also the most environment-friendly way to protect your entire family from all unsavory allergens and pollutants that are present in every home. There are absolutely no unhealthy chemicals involved in this method, only natural water that is heated up to a point where germs cannot survive. There are many different types of steam cleaners on the market today that can clean your entire home from roof to basement, eliminate bad odor from your carpets, upholstery, curtains, bedding and so much more.
The best type of steam cleaner is one that vacuums 'and' steam cleans your carpets, because that's where most of the dust mite population inhabit. This kind of highly effective dirt buster comes with plenty of attachments so you can clean all types of pile carpets and rugs, cookers, home upholstery, parquet, all types of outdoor furniture, all of your windows, shutters and blinds, sinks, and even polishing metal, heating appliances, de-frosting your freezer and the entire car - interior and outside.
One of my recommendations for an effective steam cleaner for the entire home must go to one of Polti's powerful steamers. Their machines are pure quality, and a great all-rounder to have at home. Their multi-task household hygienic dirt eliminators are fully endorsed by the British Allergy Foundation, because of their qualities that directly improve the breathing conditions of allergy and asthma sufferers, by eliminating dust mites, indoor pollutants, and chemicals.
Other uses of steam cleaners will eradicate dust mites from bedding, carpets, upholstery, and clothing without the use of toxic chemicals. Helps to kill germs, bacteria, and airborne viruses. Kill mold spores in your bathroom, basement areas, window frames, and other damp areas of your home. They effectively sanitize and clean floors of vinyl, hardwood, tiled, also blinds, glass, mirrors, and even children's stuffed toys. Hairs, dirt, bacteria, and mold, when left uncleaned for a length of time will produce a bad smell, so it is imperative that you clean every area of your home thoroughly.
Steam clean and sanitize surfaces and drains in your kitchen and bathroom. Steam cleaners clean stubborn grime and grease from microwaves and cookers too. Hot dry steam removes mildew at the bottom and underneath your fridge. Even steam clean your favorite clothes to get rid of creases. Regular use of an effective steam cleaner in your home will completely remove odors from your home very quickly.
While you are cleaning all of these objects in your home, you are also cleaning the air in your home too. Some people just use steam cleaners to spray the air in their homes. This is ideal for reducing dust mite numbers and chemicals in your home atmosphere, leaving your home clean, with very hygienic surroundings, and with plenty of pure fresh air.
Steam cleaning is one of the best ways to eliminate odor from your home, but it's not advised for urine smells.