Which Electric Range Should I Choose?
by Guest on Mar 29, 2011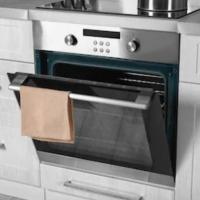 When selecting an electric range, you need to consider quality, price, and convenience. Choosing kitchen appliances can be overwhelming, but with proper research, you can put your mind at ease. An electric range is suitable for all levels of culinary experience, and there are many styles to make any kitchen look great.
An electric range is a great investment for your home. Whether you are an experienced chef or novice, a quality stove is necessary to complete every kitchen. Once the decision has been made to go with an electric range, there are a few things every homeowner should do. First, measure the space where you will be putting the appliance. Make sure these measurements are accurate. It's good to get an idea of how tall you would like the appliance by looking at the height of your counters and sink. Consider all areas of the kitchen and choose the location you think would be most convenient and safe for your electric range.
Next, you should determine the overall "theme" you are going for. You can have your electric range be all stainless steel or a specific color to match the rest of the room. You can choose between a coil top electric range and a smooth top and the choice usually boils down to aesthetics and cost. Smooth tops are usually more expensive but sleeker and easier to clean. Now, do you want a drop-in, slide-in, or freestanding electric range? A drop-in electric range is a more custom look. It is built around cabinetry and is flush with your countertops making it blend in with the rest of the kitchen. Usually, the drop-in electric range is harder to find in stores and needs to be specially ordered. The slide-in electric range is more common. The cooktop is usually slightly raised from the counters, making it easy for installers to slide it into the small space. Unlike the drop-in, the slide-in electric range usually has a drawer underneath it for storage of pots and pans and the slide-ins have grooves on their sides to make it easier to install. They need to be surrounded by cabinets to hide the unfinished panels. Lastly, there is a freestanding electric range. It is very similar to the slide-in, but the sides are finished, or painted, and can be placed anywhere in the room. Electric range models usually have the controls on top of the surface, with a handy touch screen.
Once you have selected your electric range style, you've got to deal with prices. There are many different brands and it's always best to compare and get an idea of the quality you should expect. Read customer reviews because most people are honest with their opinions and list out the little things they didn't like that you may have never thought of.
Once you are happy with your decision, shop around for where to purchase this electric range. Finding the right electric range distributor is very important because you should feel comfortable and trust the people you buy it from. An electric range is a big investment, and taking a little time to do some research will help you save money for the rest of your home improvements and let you enjoy your time at home.