How a Leather Sofa Redefines your Home?
by Ravi Jain on Apr 25, 2018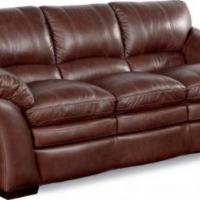 A leather sofa is one of the most demanded products when you think of leather upholstery. It is undoubtedly one of the most expensive interiors that you might want to buy. However, some things might tempt you towards leather upholstery. You need to justify if the temptation is leading you to buy a good product or not.
If you go through fine leather furniture websites where you will have most of your questions answered. They are there to tell you why the products are worth spending and what makes leather so redefining.
Leather sofa redefining your home
The following points will help you consider how a leather sofa can redefine your home décor:
Beautifying your hall
If you have a big hall with enough space to fit in a sofa, it might be one of the first considerations you make anyway. Everyone wants to beautify their hall because that's where all the recreation keeps happening. You play loud music, watch television, sip your morning coffee while reading the newspaper, and so much more. People seldom go without buying a sofa if they have adequate space in the house. If your hall is a big one and has a lot of space, you will want a sofa to redefine it.
Now, sofas have different types, so why will you buy a leather one? If you are looking for something that exhibits quality and durability, you will consider buying a leather sofa. These give you value for money in the long run and last you for years if maintained.
2. Redefining interiors
A leather sofa looks extremely classy and attractive. You will want to possess the product because it not only looks great but also makes the ambiance feel better. Your interiors look clean and bright. Leather furniture always draws people's attention. When you have guests coming over, even they can make out how well your interior matches with the sofa. You just need to make sure that you have matched your lifestyle and the wall colors to suit the upholstery. If they don't go well together, they might be a complete mismatch.
3. Maintenance
Like all other products in your house, even a leather sofa will need maintenance. Not only do you need to ensure its longevity, but also keep it looking neat. You must know about the ways of maintaining the product you buy and then consider buying the type of upholstery.
4. Covering
There is no need to cover a leather sofa because one of the main reasons you buy it, is for the look. However, if you have kids and pets in the house, you might need to protect the product from them. It is ideal to use nicely designed fabric to cover up the leather sofa. You need to match these with your interiors too. When you have guests coming over, you can unleash the sofa or you can do it when you don't have the pets around as well.
5. Cushioning
You also need to consider the cushions and other accessories you will use with the leather sofa as that too leaves an impression. Cushions are an add-on that makes your leather sofa look complete and has to match with the interior too. The cushions come with a leather cover and need a little more maintenance.
Don't forget that your comfort in using the sofa is the most important aspect. You must never use a product that doesn't give you comfort. The outer attraction is never worth spending heaps of money. These points will help you buy the best leather sofa that goes with your home décor.