How to Find Reliable Front Load Washers
by Guest Post on Mar 29, 2011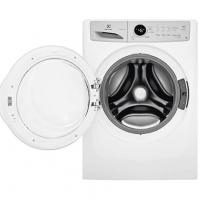 Those who have shopped for a new washing machine would readily admit there are great differences between front load washers and conventional top load washers. There are people who can't give up their top load machines, however many are joining the list of those who sing the praises of front load washers as the preferred way to care for their clothing investment.
Standard top load washing machines may be adequate for people who are in a rush for the cycle to finish, however, front load washers are well worth considering. While top load machines may generally be finished a bit sooner than those that load from the front, there are some definite advantages to the front load washers. With many of the new models, the door on the front is a bit higher and within easy reach, eliminating the need to bend down to place clothing inside. Those with problems bending may appreciate the easy access higher front load washers offer nowadays.
Front load washers have some definite advantages over top loaders. Front load washers are much more gentle on clothing because there is no agitator for clothing to get caught on. This eliminates unwanted stretching and pulling that can damage delicate fabrics. The lack of an agitator also means that should a button fall off during the wash cycle, it would likely be resting on the bottom of the drum, clearly visible, as opposed to being caught beneath the agitator or hidden from view. In the place of an agitator, there are fins that protrude from the walls of the drum, much like a dryer has. These fins spin, gently tossing the clothing during the wash cycle.
Another big advantage of front load washers is water conservation. These efficient machines can use much less water and less than half the energy of traditional top load washers, which can substantially cut down on monthly utility payments. This is one of the main reasons washers that load from the front are used in laundromats. They do a good job of cleaning the fabrics with less expense. The massive, heavy washers used for commercial purposes, have been trimmed down and made efficient as well as attractive for use in the home.
Front load washers are increasingly becoming as affordable as they are attractive. Many appliance centers offer financing to make the purchase price a bit easier to swallow. And these efficient machines come in so many fashionable colors, there is sure to be a style to fit every home. Consumers abroad have enjoyed these powerful appliances for many years and they are quickly becoming popular in the US as well. Their clean modern look is surpassed only by the versatile features which ensure every laundry day is a success.
It is a good idea to visit a local appliance center or home improvement store to study the various styles, features, and price ranges, so as be familiar with the many options for front load washers on the market today. It might be wise as well to read consumer reviews online to see what real people say about their everyday experiences with front load washers.