What is a French Door Refrigerator?
by Guest Post on Mar 29, 2011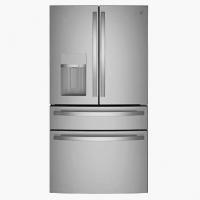 French door refrigerators are some of the top-selling refrigerator styles in today's private and commercial market. Offering distinct advantages over its competitors, the French door refrigerator model is rapidly becoming one of the most popular types of refrigerator among consumers. Reviews for the French door refrigerator are typically overwhelmingly positive, lauding the innovative design that allows for maximum storage capacity while still allowing for convenience and durability.
The French door refrigerator design is also becoming popular because it easily accommodates a wide range of additional features and special amenities. Its uniquely designed external casing is available in a wide range of styles, colors, and finishes, making it one of the most versatile models of refrigerator available. When you begin looking for French door refrigerators, it's a good idea to educate yourself about the type of features to look for and the type of features that would best suit the needs of your kitchen. Here's a quick guide to what type of things to look for when you're getting ready to purchase French door refrigerators.
What size French door refrigerator do you need? Before purchasing any type of major appliance, it's crucial to know what size you need to fill the space. Purchase one too large and you can't fit it in your kitchen. Purchase one too small and it can throw the balance of your room off. French door refrigerators come in a wide variety of sizes to accommodate whatever size space you have available. What kind of capacity French door refrigerators would work best for you? French door refrigerators boast one of the largest storage capacities on the market. Its creative design works to offer the consumer the most efficient storage capacity for both refrigerator and pull-out freezer. This allows you to hold more items inside without having a huge unit filling up the space.
What kind of extra features are you looking for? French door refrigerators offer more additional features than almost any other type of refrigerator for purchase. Available features vary for each make and model, but can include built-in filtered cold water dispensers, in the door ice makers, an alarm system that signals you when the refrigerator or freezer door has been left open, and specialized LED lighting for the inside of the refrigerator that allows you to see the contents without having the hassle of light bulbs that heat up and possibly spoil your food. While some of these features come standard with some models of French door refrigerators, some of them might not be available in all models or might cost an additional fee.
How much are you looking to spend on your French door refrigerators? Budgeting can be a major concern when you start looking for new appliances. As French door refrigerators increase in popularity with the consumer, more companies are making them, offering you a wider range of prices and features. Keep in mind that purchasing a refrigerator is an investment, and French door refrigerators have some of the most energy-efficient ratings available to help you keep your energy costs lower.