Parts of the House That May Need Maintenance
by Jess Tyler on Mar 3, 2020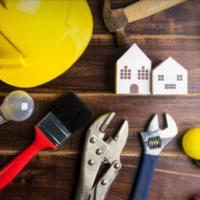 The maintenance of a house can be quite tedious. The bigger your house is, the harder it is to maintain as there is more square footage to consider. It becomes more challenging when you're a new homeowner who just bought your first house. It can get a little overwhelming and that is why we created this list.
When you go through this list, it can take up from a few hours to the entire weekend. Take some time off of your busy schedule to check which parts of your house can help you fend off any major damages.
Should you find any section of your house that need repairs, it is best to determine first the severity. Identify whether you can DIY the repair job or not. For big damages, it is best to call for a professional service as there is a high chance that you do more damage by attempting to do a task that is way above your skills and expertise.
The adage "Prevention is better than cure" is also applicable to your house. It is much more preferable to 1) take time off to check for any small damages or 2) pay for maintenance services than drop hundreds or even thousands of pounds on replacements and major renovations.
Parts of your house that may need repairs:
Roof Gutters
Often, homeowners tend to forget to clean their gutters. Leaves, rubble, and other foreign material can get stuck in your gutter leaving no space for rainwater to clear out. Your gutter needs constant love and care, especially if you have overhanging trees that shed their leaves straight on your roof.
As you will be climbing up a ladder, make sure that you exercise precautions to ensure an injury-free task. Don't wait for your gutters to just collapse. Water damage is one thing that you can easily prevent, so it is essential that you clean your gutters regularly.
Walls
Schedule an appointment with a professional to determine the health conditions of your house's walls. Your walls are important to the overall structural integrity of your home. That is why it needs regular maintenance to properly do its job.
Termites and mold can grow on your walls which could lead to major problems. Take the time to ensure that no moisture seems into your walls by sealing any holes and cracks. At the same time, your walls can house pests like ants, roaches, and mice, which would require an exterminator.
Boiler
Unsolicited cold showers are the worst. Your day can easily get ruined by an unpleasant bathroom experience. It can be quite a bit of a hassle to manually boil water every time you want to have a hot bath. If your boiler is not working as well as it should, then it may be high time to call for a boiler repair service. Boilers are quite expensive to replace so experts recommend that you properly maintain them.
Pipes
Leaking and burst pipes can create so many problems in the long run. For example, moisture encourages mold growth that could create huge damage to your walls and wood furniture. It can also bring in health complications such as asthma and allergic rhinitis.
When left unchecked, clogged pipes can also burst which could lead to flooding. And trust me when I say that an in-house flood is one major event that you do not want to happen. One flood can lower the market value of your house, ruin your things, promote mold growth, and even weaken the floors of your house. Give your house a bi-annual check-up of your pipes, under the sink, behind the counter, and even the faucet outside of your house.
Smoke Alarms & Carbon Monoxide Detectors
According to the National Fire Protection Association, almost two-thirds of home fire deaths happened in homes that don't have any working smoke alarms or Carbon Monoxide detectors. Experts recommend that you run an annual test on your smoke alarms and change your batteries.
Garden Landscape
Regardless of whether you have a small lawn or a full-blown garden, it is important that you make sure that the water from your sprinklers flows outwards instead of inwards. When it comes to your house, you want to keep it away from water as much as possible to prevent any damage to your wooden structures.
Kitchen Equipment
You would be surprised at just how much dirt and grime is in your kitchen. Oil residue and food scraps can accumulate in the tiniest of crevices and cracks. Schedule a regular cleaning session where you clean everything and not just your counter. Whenever you feel lazy about doing this, know that your oven, rangehood, and stovetop can be quite expensive to replace but very easy to clean. This thought will give you the motivation to go through the grunt work of kitchen maintenance.