Not Your Granny's Electric Range
by Guest Post on Mar 29, 2011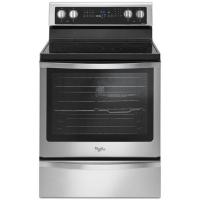 There are many types of appliances that are worth investing in, and a good electric range is definitely at the top of the list. For those who are serious about cooking and enjoy good food, a quality electric range is a real asset. Heating frozen dinners in the microwave are great for those times when people are in hurry or just for heating some mac and cheese for the kids, but when the menu calls for a rack of lamb or Yorkshire puddings, a reliable electric range with a few tricks up its sleeve is called for.
So what are these tricks? To start with, today's electric range is a far cry from what Granny stirred her porridge over. The electric range stovetops are sleek and powerful, and whether someone is doing some old fashioned home canning, or just whipping up a batch of perfectly scrambled eggs, the temperature controls, and heat retention quality is superb in the modern electric range.
Standard resistance coil burners heat quickly and hold their heat for the duration of use. This type of electric range features coil burners that usually come in two to three sizes and there may be anywhere from four to six units on the stovetop. The burners on this electric range have drip bowls beneath them to catch any spills or crumbs that may occur during cooking. A hinge allows the top surface of the electric range to be raised so the area below can be cleaned as well. Covering the drip pans with sheets of aluminum foil will help prevent stains and the darkening of the metal.
A glass cooktop-style electric range is another option and one that can make life a lot easier for ambitious cooks. The top is a tempered ceramic that conducts heat evenly and has a halogen element hidden beneath specially marked areas on the cooking surface. This type of electric range has a raised edge so spills never make it to the floor. Wiping up sugary spills before they have a chance to cook on will assure that this electric range stays looking its best and remains unpitted and safe for use. Many of this type of electric range feature a panel of lights that indicate any burner that is still too warm to touch. An occasional scrubbing with a soft cloth and special glass cook-top cleaner will remove any stuck on or stubborn spills.
The oven compartment of an electric range can be fitted with different options as well. There is the standard conventional oven which uses heating elements both on the roof and the floor of the oven. Many models of the electric range have replaced the old appliance bulbs with longer-lasting and brighter LED bulbs, allowing fussy chefs perfect control over their recipe's results.
A convection electric range uses a fan in the rear of the oven to circulate the hot air over and around the food in a steady stream. This type of electric range allows food to cook at a lower temperature and for a shorter time, bringing energy savings into consideration as well.