How to Maintain the Lint Filter on a Clothes Dryer
by Guest Post on Nov 25, 2010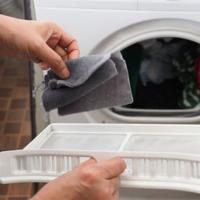 Running a household is a major responsibility, and to bear that responsibility you need to learn many new skills and talents. Beyond issues relating to proper parenting, keeping a positive atmosphere in the home, etc., which we won't be discussing here, there are many things to be learned with regards to simply keeping the household moving forward without trouble.
As our homes are filled with household appliances, it becomes very important for you (as head of household) to know a good deal about how to maintain all those appliances—as the more you know about such matters, the less you will have to pay others to come in and maintain them for you. Regarding your clothes dryer, one extremely crucial yet nonetheless very simple chore regarding the maintenance of appliance parts is to clean the lint filter, and below we would like to briefly review this subject in order to help make a home living that much more bearable for our readers.
There's a basic rule that you should follow regarding the use of your clothes dryer, and if you do so you will end up saving yourself a lot of worries as well as money, and you will furthermore reduce the risk of a fire in your home and will even help reduce your home's carbon footprint. That rule is every time you go to use the dryer, make sure you have checked the lint filter and cleaned it. Preferably you should do this before each use of the dryer as that's the best way to ensure that it is running at maximum efficiency for each cycle. Performing this task is really a piece of cake, as all dryers are manufactured to make it very simple and straightforward to access the filter, remove it, clean it, and then put it back in its place. Most typical clothes dryers have an internal lint filter, sometimes right in the area of the door and sometimes farther towards the back of the dryer; in almost all cases the filter is easy to remove and replace, needing only a little pressure to do so.
When you take out the lint filter you will be able to remove almost all of the lint by simply grabbing it and lifting away, as the lint fibers tend to mesh together and create a compact unit almost resembling a small rag. Though you can get rid of most of the lint with this simple procedure, it's worth it to take one more tiny and quick precaution and to brush off the filter netting to remove tinier pieces of lint that are clogging the unit. To do so you need to remove the netting from the filter frame (in other cases you can't disassemble in this manner, so you just brush the whole piece). Be sure to use a soft brush (such as a banister brush) as you don't want to damage the filter at all, as that would defeat the purpose of this exercise; for that same reason, you should also check the netting for holes and replace it if you can see irregularities in the netting.