How to Prepare Your Garden for Spring
by Guest Post on Jan 18, 2022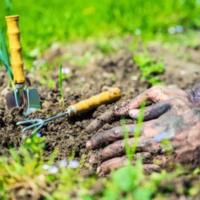 Winter isn't a time to neglect your garden because many tasks need doing to ensure it's ready for spring. If you spend time preparing your garden during Winter then you will ensure it looks its best during spring, so, how do you prepare your garden for Spring?
Remove All Debris
The garden can become untidy during winter as strong winds can cause branches and other debris to find their way into your garden. Furthermore, you might still have leaves left from the Autumn that could be covering plants or grass. So, spend time clearing it all up as that will enable you to see what needs doing in the garden.
Mulch Borders
Your soil is likely to be filled with moisture but once Spring arrives and the temperature rises, that moisture will soon disappear. If you can spread a thick layer of mulch such as bagged soil, compost, or bark over the soil, it will help to trap in the moisture. What this means is that once the temperature rises, your plants will still have plenty of moisture. Furthermore, by laying mulch, you will also reduce light and that will reduce the likelihood of weeds growing.
Remove Dead Plants
It's likely that you still have plants that have died back and won't regrow in the Spring. Therefore, you should look to remove all dead plants as this will free up space for new plants or help other plants nearby to thrive.
Trim Your Trees
If you have trees that are easily accessible and you are confident enough to prune yourself, then this is a great time to tackle them. You can see the branches clearly as there are no leaves and the branches will be easier to access. If you don't have the ability to do it yourself because you aren't confident enough or the trees are too big, you should consider calling a tree surgeon. They will professionally cut your trees and ensure they are ready to thrive again during the Spring and into Summer.
Sow Seeds
In January and February, you can begin sowing seeds that require a longer growing season. This can include the likes of Begonias and Geraniums. However, they will need to be started in a heated propagator as this will ensure they have the best chance of surviving.
Remove Garden Pests
Garden pests can cause a lot of problems in spring so now is the time to hunt them down and remove them. You should look at the crown of perennial plants and look for slugs and snails. These hibernating pests can be removed, reducing the risk of problems come Spring.
Repair Fencing and Trellis
Spring is the time you are likely to begin spending more time in the garden, so you are going to want it looking its best. The winter can often leave fencing and trellis damaged, so now is the time to carry out any repairs and replace any broken section. If the weather permits, you can remove dirt and moss with a power washer and a stiff brush and once it has dried, you can then add a stain or paint.
Your garden might look a little worse for wear during the Winter but spending time to get it looking right will ensure it looks its best when spring arrives.