Why a Convection Microwave is a Great Appliance to Own
by Guest Post on Mar 29, 2011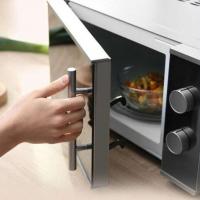 Convection microwave ovens are becoming a standard appliance for many new kitchens. With the convenience of the microwave as well as the usefulness of the convection mode, it is easy to understand why. Today's life is very fast-paced, and time is of the essence. For people who appreciate the ability to quickly prepare quality, healthy foods for their families, the convection microwave can't be beaten.

Convection microwave ovens have come down in price over the past few years. As manufacturers have seen how well the consumers like the convection microwave, more and more companies have begun to manufacture them, thus driving the prices down. You can even find a basic convection microwave for a price comparable to a traditional unit. Of course, the price of any appliance often depends on the features that are available to it. The convection microwave can be found with as many or as few features as you wish. You can choose which features you are willing to pay for, and which you are not.

There are many advantages of using a convection microwave. You can prepare healthy foods in the convection microwave without using as much oil as would be needed with conventional cooking methods. You can quickly make crisp food, brown meat or bread, or roast food by using one. Baking a batch of cookies is a snap with a convection microwave. The main advantage here is the cooking time, which is greatly reduced over the time it takes to cook the same foods in a conventional oven. Convection microwave ovens use circulating air to allow you to heat food evenly.

Convection is a word that describes heat that circulates. In a pot of boiling water on the stove, it describes what the water is doing. In a convection microwave, a fan blows hot air in a circular pattern which causes the food to heat more evenly. Because the hot air is constantly moving across the food in a convection microwave, you have the ability to bake and brown foods, just like in a conventional oven. However, the conventional oven takes more time because the air can't get close to the food. Also, the convection microwave uses microwaves in addition to the circulating air to speed things up.

As with any appliance, you need to follow the manufacturer's directions when operating a convection microwave. Metals and foils can cause arcing, just like in a traditional microwave, so it is important to remove them before cooking. Getting used to how quickly food cooks will help you so that you don't over or undercook foods in your convection microwave. Some of this will depend on the wattage of the individual oven. You can purchase models that range anywhere from 500 to about 1300 watts, so it is smart to think about what you will be cooking so you know how powerful your convection microwave needs to be. The model with the higher wattage has more power and will cook faster than the model with a lower wattage.